Firm Returns Weekly - AV, TBLD
Aviva
This week, Aviva released their interim results for the first half of 2023. Here are some highlights:
Group Level
Operating profit up 8% to £715m (1H22: £661m). On a per share basis, this rises to 10% due to share buybacks (19.9p vs 18.1p).
Cash remittances (the money paid to the parent by its subsidiaries) were up 3% to £825m (1H22: £798m).
Total shareholder capital returns of £876m, comprising a £576m final dividend for 2022 and a £300m share buyback. An 11.1p per share interim dividend has been declared - up 8% on the prior year interim dividend of 10.3p.
Insurance, Wealth and Retirement
Value of new business (VNB) increased 7% to £319m (1H22: £297m).
Operating profit fell 13% to £426m (1H22: £500m), as lower contributions from the Wealth business outweighed higher contributions from Annuity & Equity release and Health & Protection.
Cash remittances were £714m (1H22: £706m).
UK & Ireland General Insurance
Operating profit grew 41% to £230m (1H22: £163m) as the business benefited from improved investment income.
The COR worsened slightly to 96.3% (1H22: 95.3%) due to increased claims frequency and inflationary pressures, but should improve in the second half as mitigating actions (such as premium increases) are taken.
Gross Written Premiums (GWP) increased 13% to £3,219m (1H22: £2,840m), with strong growth in both personal and commercial lines.
Cash remittances were £61m (1H22: £59m).
Canada General Insurance
Operating profit increased 19% to £240m (1H22: £201m) as the business benefited similarly from higher yields.
The COR worsened slightly, but still remains very strong at 92.8% (1H22: 91.8%).
GWP increased 11% to £2,055m (1H22: £1,854m), with similarly strong growth across personal and commercial lines.
Cash remittances were £36m (1H22: £14m).
tinyBuild
Black Skylands
We saw Black Skylands leave early access with its v1.0 launch across PC, Xbox, PlayStation, and Switch on Tuesday (15 Aug). From the Steam stats it certainly seems to have done well, appearing in both the Popular and Hot Release lists for 3-4 days following launch, and achieving a new peak player count of 1,123 at time of writing, which looks set to be beaten over the weekend.
Follower numbers have seen decent growth from 26,324 before release to 28,564 at the time of writing. The game also featured in the top-100 best selling games on Steam for several days, and the day after release it was in 87th place.
One slight negative is it appears some of the people who played the early access version of the game weren't happy with the v1.0 changes, which has pulled the recent review score down a little. I expect this will smooth out over time as new players add their voices to the mix.
Things are looking promising for the game's success on other platforms, as it seems to have caught the attention of console focused influencers. The channel linked in the video below already have a review in the works.
Hello Engineer
Hello Engineer got off to a fairly slow start on Steam after its launch on Thursday (17 Aug), which isn't surprising considering the game was way back in the wish list rankings prior to launch. It's peak player count since release was 96 at time of writing, and it currently has 2,656 followers and 49 reviews. However, of these 49 reviews 83.67% were positive so it's been well received by those that have played it, and there's been no mention that I've seen of any bugs or performance issues.
The publishing team has been taking steps to try and boost interest, including the application of a 35% introductory offer - valid until the 24 Aug. We'll have to see if this helps give it some momentum in the coming weeks.
It's also worth noting that the game simultaneously released across consoles - where the Hello Neighbor series has a much greater following - so it may well have done better there.
Graveyard Keeper
Something else I wanted to highlight is the enduring power of Graveyard Keeper. This week the game celebrated its 5th anniversary with an 80% discount that put it back into the top-20 best selling games list on Steam, as well as the trending list, where it has remained with a daily peak concurrent player count above 6k.

This shows you the enduring sales power of certain back catalogue titles, with Graveyard Keeper making new sales records each year according to management.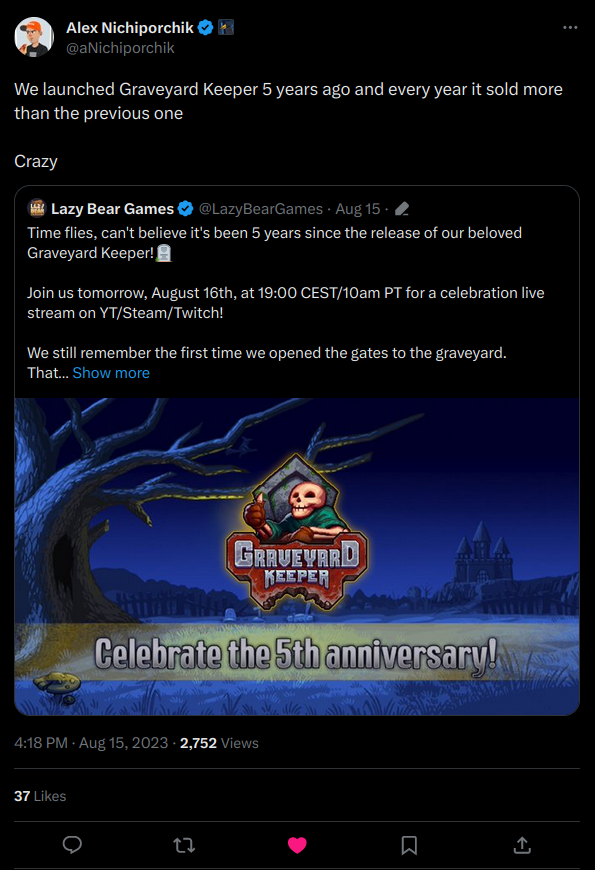 Chasing the Thousand-Hour Game
One final thing I wanted to bring to your attention is another excellent article from tinyBuild's CEO Alex Nichiporchik, where-in he describes the strategies tinyBuild is pursuing to create games that can be played for more than 1,000 hours, without a AAA budget.