Firm Returns Weekly - WBD, TBLD
Warner Bros. Discovery
Blue Beetle
Blue Beetle topped the US box office rankings in its opening weekend with domestic ticket sales of $25m, and is currently the widest release, showing in 3,871 theatres.
Performance is looking comparable to Shazam! Fury of the Gods, which released earlier this year and had a similar budget. Neither movie is likely to have made a profit from theatres alone, but there are still plenty more monetisation windows for them to pass through to make them profitable overall.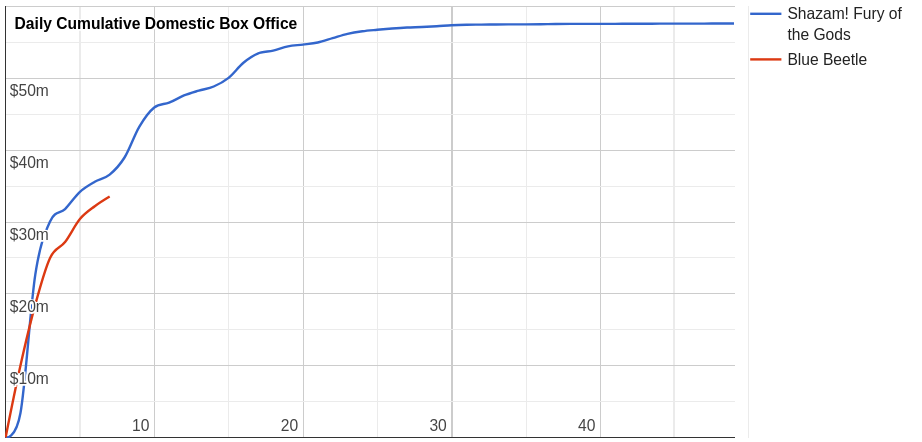 Release delays
We found out this week that a number of big movie releases are getting pushed back due to the Hollywood actor strikes. In the short-term, the company will likely see a boost to its profits and cash flows as expenses fall, allowing them to accelerate their debt repayment. However, in the medium-term we're likely to see a negative impact as revenues get pushed out further into the future.
tinyBuild
This week tinyBuild attended Gamescom - the world's largest gaming event - in Cologne, where it released new trailers and began showcasing both Streets of Rogue 2 and Pigeon Simulator.
Streets of Rogue 2
Streets of Rogue 2 is set for release on Steam in 2024, and is already gaining a very considerable amount of hype. The game's reveal trailer below has attracted a pretty incredible 550k views on YouTube in just 3 days.
This, combined with other marketing efforts, have propelled the game up the Steam wish list rankings. It now sits in 106th place, and looks likely to enter the top-100 before too long.
Things are looking very promising for the launch of this game next year.
Pigeon Simulator
Beyond the launch of a new trailer for Pigeon Simulator, we also got the news that the game will feature on Xbox Game Pass. I don't know whether there was a pre-existing contract, but it's certainly positive, as it means we can still expect to see some platform revenues coming in over the next year.
Analyst coverage
I had a very interesting conversation with an analyst from Progressive Research called Rebecca Carr this week. She has been commissioned by the company to provide ongoing coverage which you can find via the link below.
Her initial report goes into a lot of depth and provides detailed competitor analysis that I found particularly useful. If you want to read the report but don't want to sign-up to receive future updates, I have been given a copy I can send to anyone who's interested. Just drop me an email.
Firm Discussions
Finally, I wanted to mention that I have started a new podcast entitled Firm Discussions in collaboration with the Punch Card Investing YouTube channel. This will feature a series of interviews with other analysts, covering a different company each episode.
For the first episode, Spencer Garnets of Breeley Capital and I covered tinyBuild. This featured a lot more of me talking than will be usual for this show because it's obviously a company with which I am familiar. In future you'll hear less of me and more of the guest.