Firm Returns Weekly - WBD, TBLD, AV
Warner Bros. Discovery
Webcasts
There are a couple of new webcast recordings available on the WBD website, with commentary from both David Zaslav (CEO) and Gunnar Weidenfels (CFO).
The Nun II
The Nun II made $32.6m in its US opening weekend, putting it ahead of The Conjuring: The Devil Made Me Do It which released during the pandemic, but behind The Nun which released back in 2018.
Ticket sales are currently estimated to be at around 75% of pre-pandemic levels across the industry. So factoring this in, the gap between the first and second movies is quite a bit narrower.
The sequel has been rated significantly better than the first film by audiences and critics alike, and having seen them both I definitely agree.
Expectations for the film's second weekend put US ticket sales at $14m.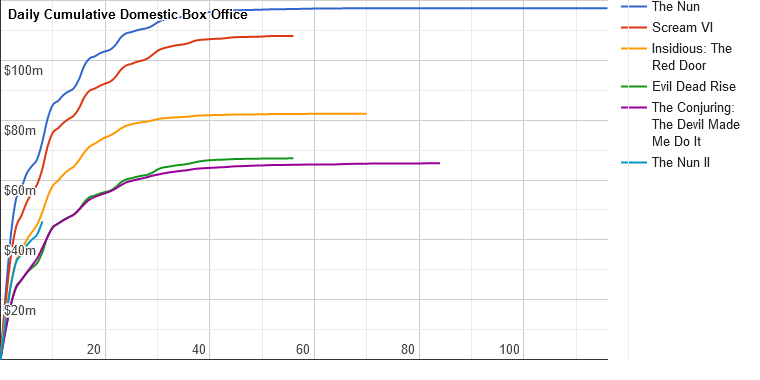 Mortal Kombat 1
Mortal Kombat 1 is set for release on the 19th and is already gaining a fair amount of traction from pre-sales. We can see it's currently the #5 top seller and #50 most wishlisted game on Steam.

People who purchased the premium edition of the game have been able to play it a week early, so we already have some concurrent player count data to look at: peak concurrent player counts have consistently been above 20k each day.
The previous game in the series (Mortal Kombat 11) sold 12m copies over the first 2 years following its release in 2019, so this gives us a benchmark for comparison.
Mortal Kombat 1 is retailing with a notably higher price than its predecessor, with the standard and premium editions costing £59.99 and £84.99, respectively, vs £39.99 and £49.99 for MK11. I'd say this is largely owed to the precedent set by Legend of Zelda: Tears of the Kingdom earlier this year, which has now set the new baseline price for AAA releases.
tinyBuild
Interim results release and investor call
tinyBuild has announced they will be releasing their interim results for the six months ended 30 June 2023 on 26 September. There will also be an investor call held at 17:30 BST on the same day. The details, including the sign-up link for the call, are available via the link below.
https://polaris.brighterir.com/public/tinybuild/news/rns/story/rd1n68r
Broken Roads
We've just been given the release date for the highly anticipated Versus Evil release: Broken Roads. The game will be launching on PC and Xbox on 14 November.
As of writing, the game has 14,084 followers and is the #153 most wishlisted game on Steam. This positions it similarly to Punch Club 2 and I Am Future, which both saw very successful launches earlier this summer. It should serve as a good test for the publishing capabilities of Versus Evil compared to tinyBuild.

Cartel Tycoon: San Rafaela DLC
The San Rafaela DLC for Cartel Tycoon is set for release on 22 September, and will be the largest update the game has received since its v1.0 launch in July 2022.
Prior updates have driven substantial increases in engagement, so we'll have to check-in again in a week or two to see if this DLC did the same.
Aviva
Aviva has announced the sale of its stake in Singlife to Sumitomo Life Insurance Company for total proceeds of £800m, which is split between £500m and £300m for the company's equity and debt holdings, respectively. This seems like a pretty good deal to me, as Singlife only contributed £17m to Aviva's operating profit in 2022, and the combined carrying value on Aviva's balance sheet was £729m.