Firm Returns Weekly - WBD Q3 earnings, SAG-AFTRA strike ends
Q3 earnings
On Wednesday (8 Nov) WBD published their Q3 earnings, covering the period ending 30 September. Overall I came away pretty positive, but the market may have disagreed.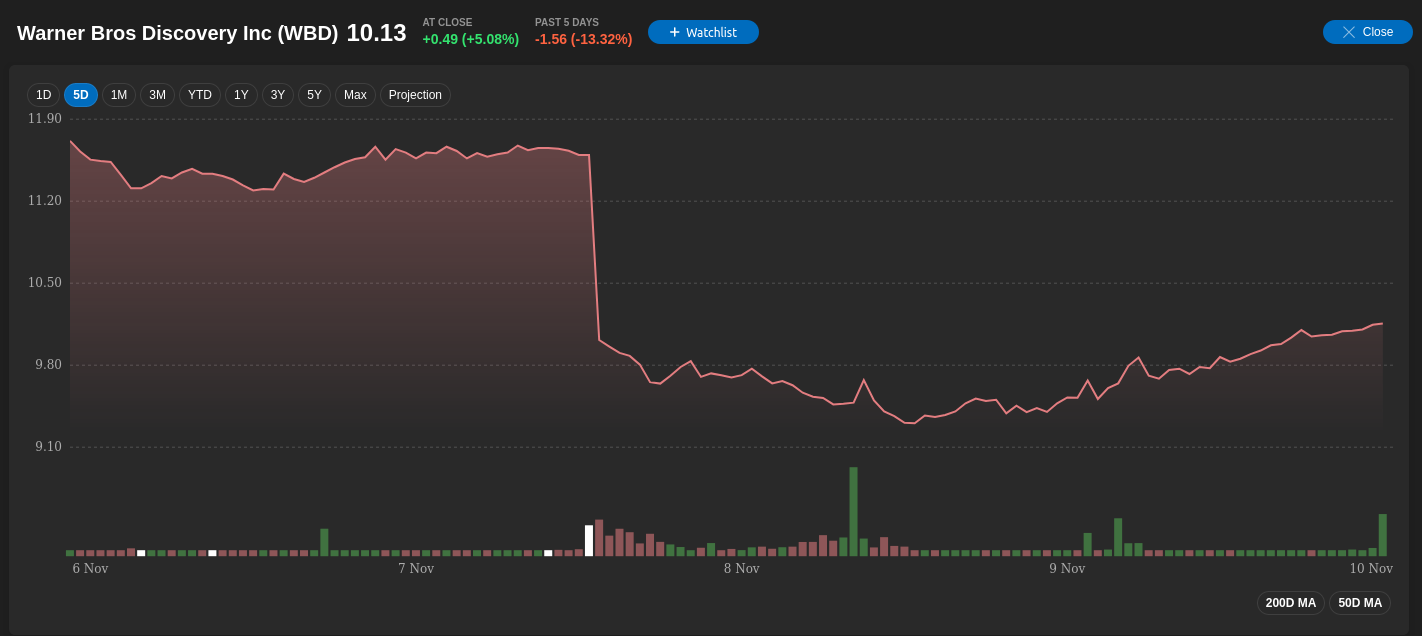 There's been quite a lot of talk about fears of a weak advertising market in 2024, but as far as I can tell, the forward guidance given by management factors that in and still leaves the company in good shape. In any case, let's dig into some highlights.
https://ir.wbd.com/financials/quarterly-results/default.aspx
Income
Revenues were pretty well flat at $9.98bn vs $9.82bn in Q3 2022, but Adjusted EBITDA rose 22% to $2.97bn from $2.42bn.
Looking at the breakdown of costs on the income statement, we can see that they have come down meaningfully across all categories. Part of this will be due to the impact of the strikes, but there are clearly some "synergies" starting to come through.
The improved cost efficiencies, and a lower level of restructuring and other charges, led to a positive operating profit of $97m compared to an operating loss of $(2.19bn) in Q3 2022, and a significantly reduced net loss of $(407m) vs $(2.29bn).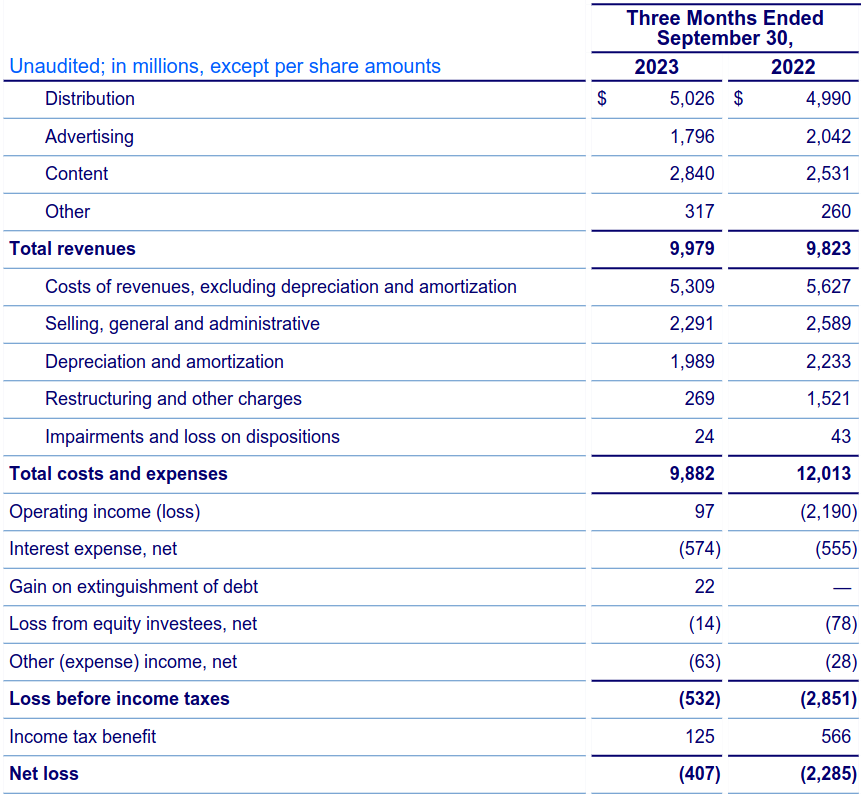 Debt
Gross debt at quarter end was $45.3bn, after a further $2.4bn was repaid or repurchased on the market during the quarter, and the Company had $2.4bn of cash at hand.
The average duration of the outstanding debt as of 30 Sep was 14.9 years, with an average interest cost of 4.7%, and the average amount of debt maturing annually over the next 5 years is below $3bn.
An additional $600m has subsequently been repaid, bringing the total debt repayment since the close of the merger to $11.8bn.
Net leverage at quarter end was 4.2x, and management has restated their guidance that it will be comfortably below 4x by year-end. They also highlighted the beneficial position the Company is now in to retire its fixed-rate debt below carrying value, due to market interest rates having risen.
The possibility of a continued soft ad market in 2024 has led management to conservatively say their 2.5-3.0x leverage target might not be achieved until 2025.
Cash flows
Cash flows from operations were very healthy at $2.52bn vs $124m in Q3 2022, which flowed through to $2.06bn in free cash flow vs $(192m). This is also after they made their roughly $900m semi-annual cash interest payment during the quarter.
Management is guiding for full year FCF to be around $5.3bn, which matches the total from the trailing twelve months.
Studios
The studios segment saw modest revenue growth of 4% to $3.23bn (22Q3: $3.09bn), but a 5% decrease in Adjusted EBITDA to $727m (22Q3: $762m), due to higher cost of revenues and selling, general and administrative expenses.
Increases in theatrical and gaming revenue have been offset by a significant decrease in TV revenue, due to certain large licensing deals in the prior year and the impact of the strikes.
Management went into some detail on the Company's gaming business, stating that it has been profitable in each of the last 15 years, and averaging more than $400m in EBITDA for the last 3. They also disclosed that Mortal Kombat 1, which was released during Q3, has to date sold close to 3m copies.
It sounds like they're going to be making further investments to grow their gaming business, and possibly expand out into previously unexplored business models such as games-as-a-service and free-to-play.
Finally for studios, the Q2 opening of Warner Bros. Studio Tour Tokyo, and continued strong attendance of Warner Bros. Studio Tours London & Hollywood, have helped to increase other revenue by 5% (ex-FX).
Networks
Networks revenues decreased 7% to $4.87bn (22Q3: $5.21bn), owing to declining viewer numbers and a soft advertising market. A smaller decrease in operating expenses led to a 9% decline in Adjusted EBITDA to $2.40bn (22Q3: $2.63bn).
They're expecting an incremental improvement in ad revenue in Q4, as a result of the strong deals they secured during the upfronts this year, and improving ratings trends across some of their core networks.
There's been quite a bit of noise around the deal signed between Charter and Disney, which resulted in several of Disney's channels being dropped. When asked about it during the earnings call, WBD's management seemed pretty happy with the structure of the deal, and don't appear overly concerned about the prospect of some of their own lower-performing channels getting cut in return for boosted subscription revenue for Max.
DTC
Direct to consumer revenues increased 5% to $2.44bn (22Q3: $2.32bn), with a notable 29% (ex-FX) rise in advertising revenue to $138m (22Q3: $106m) driven by growth in the Max ad-lite tier and higher engagement.
Operating expenses fell 21% (ex-FX) to $2.33bn (22Q3: $2.95bn), largely due to lower content expense and more efficient marketing-related spend. This resulted in a dramatic swing in Adjusted EBITDA from $(634m) in Q3 2022, to $111m in Q3 2023.
There was a modest drop in total subscriber numbers from 95.8m in Q2 to 95.1m in Q3, but average revenue per user (ARPU) rose to $7.82 from $7.71 the prior quarter. The drop in subscriber numbers is apparently due to a lighter content slate (in part due to show releases being postponed due to strikes), and some overlap between Discovery+ and Max subscribers.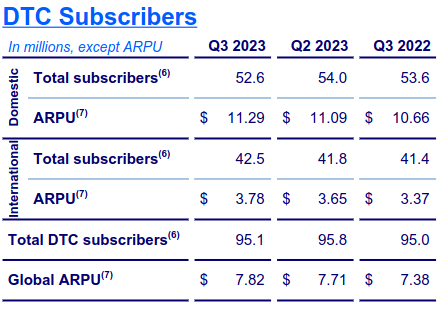 Now that they've got the DTC segment to profitability, they're looking to start investing in growth through international expansion. This includes launching Max in Latin America in the first quarter of 2024, then the Nordics, Iberia, the Netherlands, Central and Eastern Europe, France, and Belgium later in the year. Other markets like the UK will probably see launches from 2025 onwards, when the current content licences expire.
As I've previously covered, live sports and news came to Max in October through the Bleacher Report Add-On Sports tier and CNN Max, respectively. We'll see in the coming quarters whether they have helped subscriber numbers and churn.
SAG-AFTRA strike ends
No long after the WBD earnings release, we got the news that the SAG-AFTRA strike would be ending on Thursday (9 Nov), with a deal having been struck with the studios pending a vote of the union's board on Friday (10 Nov) - which subsequently passed.
This hopefully draws a line under the disruption, and allows WBD and the other studios to get their content production and release schedule back on track.