Firm Returns Weekly - Week 1
As a way to give you ongoing coverage of the companies in the portfolio, and generally keep you informed with what I'm doing, I have decided to start this weekly updates newsletter. It's completely separate from the Stock Analysis and Portfolio Updates newsletters, so if you don't want to receive it you can opt out while still receiving those.
I also plan on making a YouTube video series out of these updates, so if you prefer that format feel free to subscribe to the channel: https://www.youtube.com/@FirmReturns
tinyBuild
There are a quite a few things to mention with tinyBuild, but we'll start with the successful launch of Punch Club 2: Fast Forward.
Punch Club 2: Fast Forward
The game got off to a great start after its release on 20 Jul, appearing at the top of the trending games list on Steam for much of the first week, and spending several days in the top 40 best sellers on the platform.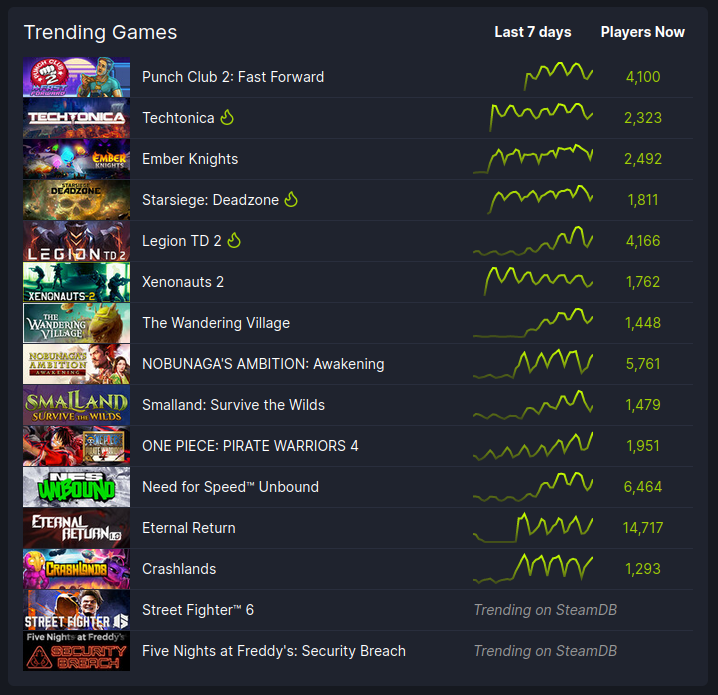 Peak player count was 5,509 on 22 Jul, and since then it's held up reasonably well with daily peaks consistently above 2,000.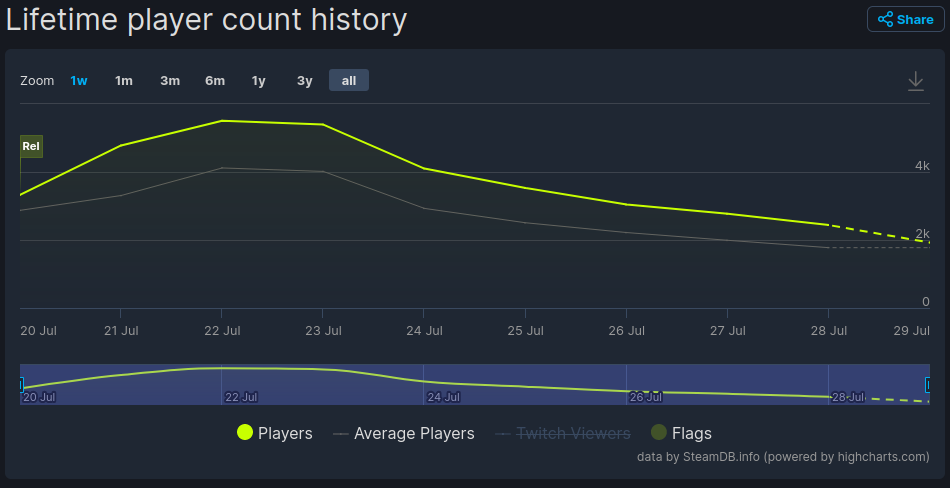 Follower numbers have grown rapidly since release, and are now in excess of 11,000.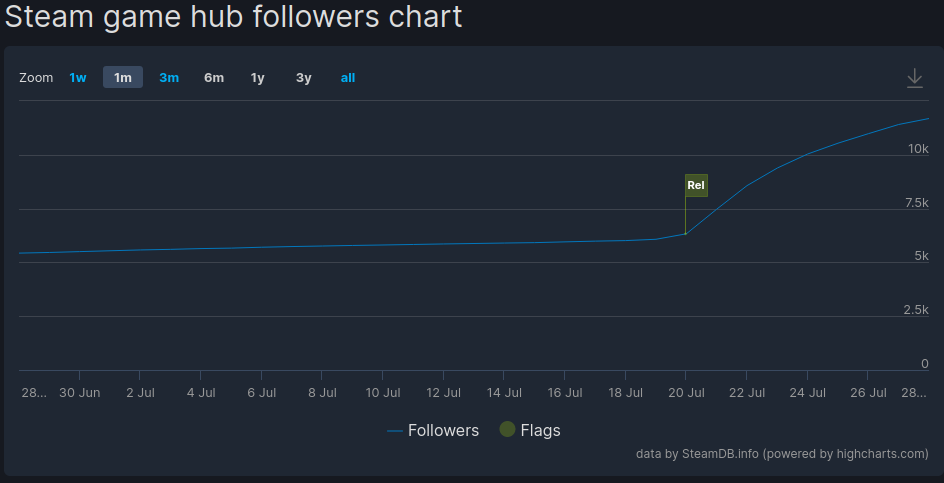 The game currently has 1,025 reviews of which 79.9% are positive.
It should also be noted that the game released simultaneously on PC, Xbox, PlayStation, and Switch, so the numbers referenced above will only represent a portion of the overall picture.
Hello Neighbor 2: Post-Mortem
Something else I found quite interesting this week was a post-mortem of Hello Neighbor 2, presented by Alex Nichiporchik (the company's CEO) at the DevGAMM conference in Vilnius, Lithuania. It gives you a real insight into the Hello Neighbor franchise, and the challenges faced in developing Hello Neighbor: 2, that ultimately contributed to its lacklustre performance.
I Am Future
Last weekend I participated in a play test for I Am Future prior to its release in early access on 8 Aug. I can't disclose any details about the game at this point, but I can say it was very polished and kept me thoroughly entertained for 3-4 hours before I ran out of time.
After playing it, I was not surprised to learn that it has been developed by one of the original creators of Graveyard Keeper - a hit success within the genre, that still has daily player counts in excess of 2,000, five years after its release.
Overall, things are looking promising for a strong launch.
Share price movement
Finally on tinyBuild, I wanted to mention the share price movement we've seen since the release of my write-up on 18 Jul - the price has risen ~40% to £0.1375.

The shares are still incredibly cheap, and a long way from their price just 2 months ago, but the recent share price growth does demonstrate that the impact of illiquidity on price works both ways.

Warner Bros. Discovery
Strikes
Strikes are becoming increasingly impactful, with production of many new projects being halted due to the Actors union now voting to join the Writers guild in strike action.
I found this article to be particularly informative on the subject: https://www.telegraph.co.uk/films/0/the-actors-strike-everything-you-need-to-know/
Barbie
Barbie had an excellent opening weekend, and is looking like one of the biggest releases this year. You can see from the chart below that it is currently on a steeper sales trajectory than The Super Mario Bros. Movie - the most successful release of the year so far.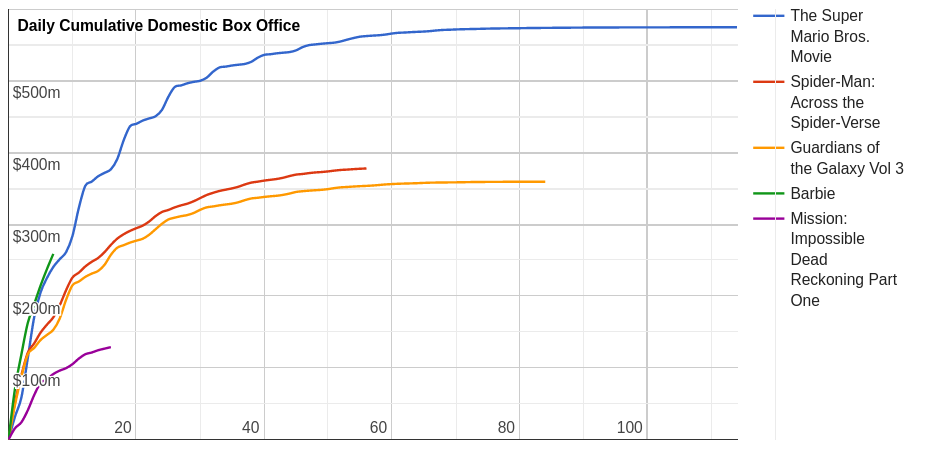 Fuller, Smith & Turner
Fuller's announced on 21 Jul that they will be commencing a share buyback program for up to 1m shares in an effort to close the gap between the share price and underlying value.
From a capital allocation standpoint it's the most rational course of action, since the alternative would be to use the cash to purchase new properties at a market price effectively double that of the company's existing properties.
Ecora Resources
Ecora Resources announced on 24 Jul that it has acquired a 0.25% Net Smelter Return (NSR) royalty over the Vizcachitas copper project in Chile, for a total cash consideration of $20m. The mine life is estimated to be a minimum of 26 years, with considerable potential for extension, and production is expected to commence in 2029.
As a rough estimate using the current copper price and estimated average annual copper production of 153kT, the royalty would generate ~$3m for Ecora annually. This alone would be a good return over 26 years, but it could be much higher if copper prices rise as anticipated.
Taylor Maritime Investments
On 27 Jul, TMI released its annual report for the year ended 31 Mar 2023, and then a day later its Q1 trading update.
This is certainly a company that I need to do some more work on, as it has become increasingly complex post the Grindrod acquisition. I'm also considering travelling to Guernsey to attend the AGM, as from a brief look through the annual report I think I will have plenty of questions. In any case, you an expect a new write-up on the company soon.
Punch Card Investing Podcast appearance
Last weekend I made an appearance on the Punch Card Investing Podcast, where the topic was "How to Evaluate Management". I felt we had a good discussion and I certainly enjoyed it, so give it a look if you're interested.
Investment search
Finally, I wanted to mention an exercise I'm currently undertaking to source new ideas. I have filtered down all the companies on the London Stock Exchange to leave just those with market capitalisations between $20m-$1bn (roughly 650 companies), and have started working through them one by one to create a short-list of ideas for future study.
At present, the short-list consists of the following:
Volution Group plc (FAN) - a little too expensive from a first glance, but profitable and growing so could be worth a look.
Redde Northgate plc (REDD) - Cheap, but has a fair amount of debt and other complications.
Conduit Holdings Limited (CRE) - Cheap, but with complexities.
TI Fluid Systems plc (TIFS) - Complex, but cheap on 2019 FCF numbers.
I'll continue adding new additions to this short-list in the coming weeks, so stay tuned.