I wrote about tinyBuild back in March, and it's fair to say a lot has happened since then. This is going to be an update covering, amongst other things: recent game releases, titles currently in development, the 2022 annual report, the recent trading update and outlook for 2023, and the AGM - at which I was one of two external attendees.
I'll talk about the valuation in more depth later on, but I think it would be remiss of me not to mention the share price. At the time I wrote in March, the price was £0.51 per share, down from the IPO price of £1.69. Today it stands at ~£0.10 per share, not far off a 95% drop. As you'll see from my portfolio updates, I have been aggressively adding to my position, which has grown very substantially in terms of share count, and may grow further over the coming months if prices remain this low. It goes without saying that everyone should do their own due diligence and not be swayed by me when deciding whether or not to make an investment themselves.
While I endeavour to remain as objective as possible, you should note that my shareholding does create the potential for bias. There will also be points where I present my own opinions on qualitative factors which are largely subjective. Don't take these as facts.
With all that out of the way, let's have a look at the release pipeline.
Game releases
When analysing the performance of games post-release, there are a number of data sources we can use to help gauge their sales numbers on PC, including: SteamDB, PlayTracker, VG Insights, and steamspy. The sales numbers listed on these sites are usually estimates calculated from metrics like the number of reviews, active users, Steam followers, etc, and can vary. For consoles, there isn't such publicly available data to build estimates from, so it's purely guesswork unless the company has released its own figures.
What we do know is there's a fairly even split between PC and console gamers, with a reasonable amount of overlap (e.g. PC gamers also owning consoles) and somewhat different demographics. Because of these demographic differences, there will be some games that sell much better on PC than consoles and vice versa. A lot of this will come down to how well suited a game is to playing with a controller vs mouse and keyboard.
An example of a game from tinyBuild's portfolio that sold much better on consoles than PC was Hello Neighbor. SteamDB estimates the game sales on Steam at somewhere between 365k and 912.4k copies based on 12,165 reviews, but we know from management that the game has over 70m downloads across all platforms. I expect a chunk of this will come from the fact it was added to Xbox Game Pass, but this is not to diminish the feat.
While Hello Neighbor was a runaway success, any game that passes 1m downloads is likely to generate significant profits for the company, and there are a number of such games in the portfolio. A recent entry worthy of study is Potion Craft, released on 13 Dec 2022 after an early access period.
You can see from the graph below that the game has grown to have more than 112k followers since its initial listing on Steam, with a few notable steps. The first coincided with the release of the game demo in Feb 2021, the second with release of the game in early access in Sep 2021, and then the third when v1.0 was released in Dec 2022.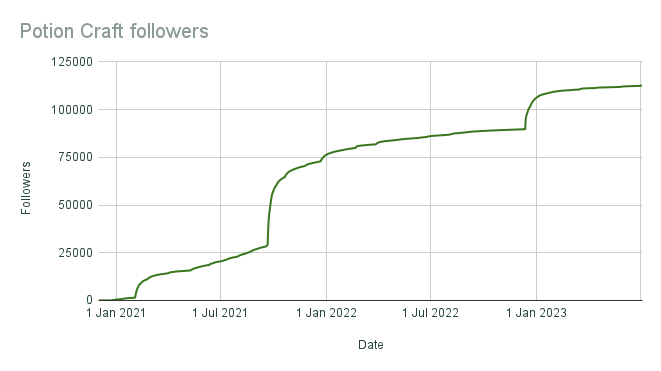 The game has 21,375 reviews in total, of which 92% are positive, and the game still has a daily peak concurrent user count of around 1,000. SteamDB estimates the number of copies sold as somewhere between 427.5k and 1.18m, but we know from management that the game has over 1m downloads, with 700k of these occurring during early access. Prices vary by country, but I'd say the game has probably generated between $5-10m in revenue from PC sales, and judging by the active player counts and new reviews each month, it looks to still be generating steady income.
Alongside the release of v1.0 on PC, the game was also launched on Xbox and is included with Game Pass, so we can expect additional revenues from here. We should see a subsequent launch on both PlayStation and Nintendo Switch this year as well. The game seems a particularly good fit for the Switch player base, so I'd anticipate this port producing good returns. It's often the case that porting a game to consoles costs as much as the original game development, so expected sales need to justify the expense.
With this example in mind, let's have a look at some recent and upcoming releases.
Recent releases
Mayhem in Single Valley
This game was originally released for PC back in May 2021, and is estimated by SteamDB to have sold between 5.1k and 13.9k copies based on 253 user reviews - of which 89.72% were positive. The estimate from VG Insights falls within this range at 7.6k, but the PlayTracker and steamspy estimates are far higher at 144.8k and 194.0k, respectively.
Supplementary to these sales estimates, we also know that the game has 3,407 followers on Steam - the majority of which were obtained after the game's release - and a combined 3.3k across Twitter and Facebook.
The game is well suited to playing with a controller, so it could be that it sold well on consoles. Management evidently believed this to be the case as they signed off on ports to the Nintendo Switch, Xbox One, and PS4, released in March this year.
Given the relatively low development costs a game like this incurs, it's quite possible that they made a decent profit from sales across all platforms, but I don't expect the revenue contribution to have moved the needle much.
The Bookwalker: Thief of Tales
This game is probably a little higher budget than Mayhem in Single Valley (despite being developed by a 2-person team), as evidenced by its simultaneous release across PC, Xbox and PlayStation on 22 June, and high-quality cinematic trailer.
DO MY BEST, the developers behind the game, previously made The Final Station - a game with 41,804 followers on Steam, 86.76% of the 7,560 reviews positive, and sales likely in excess of 1m copies across all platforms - so there was a precedent for The Bookwalker to follow.
So far the game has managed to gain 10,024 followers on Steam, and SteamDB estimates its sales to be between 10.2k and 27.9k from 508 reviews - of which 95.87% were positive - and other sources also put the number somewhere in this range. Not a bad start, and evidently well received by those that have played it, but it probably hasn't done quite as well as hoped given the money spent on marketing it.
Again, we don't know how well the game has done on consoles, but it is included in Xbox Game Pass, so we can expect there to have been some upfront revenue there. One negative I've seen is that it appears the game was released to Xbox with game-breaking bugs. I don't know if this was true for PlayStation as well, but it does seem that there are QA issues with some of the smaller game releases the company is putting out. This can have a serious impact on the overall success of the game, as early momentum can be crucial, and bugs that lead to negative reviews are a sure way to kill it.
Farworld Pioneers
This brings me to Farworld Pioneers. The game released on 30 May for PC and Xbox with real potential - incorporating a unique blend of features such as open world survival, co-op gameplay, colony simulation, PVP/PVE combat, and 2D pixel art. A number of the game's developers have also previously worked on hit games such as Starbound and RimWorld, with similar characteristics.
The game built a decent following prior to its release, with over 7k followers on Steam and 4k on Twitter, which helped bring substantial player volumes at launch. They evidently exceeded expectations, as at one point the number of concurrent players was enough to bring down the game's servers. A lot of this volume is likely to have come from Xbox where the game was included in Game Pass, as according to SteamDB, the all-time peak in concurrent players on Steam was just 628.
Unfortunately the game was not as polished as it should have been, and released with a boat load of bugs and issues that quickly killed its momentum. Out of the 436 reviews on Steam, 59.4% are negative, and follower numbers are starting to roll-off at around 9k. Concurrent player numbers have also fallen steeply since launch, to a daily peak of just 28 on 6 July. Again, we don't know the numbers for Xbox, but given the issues, I wouldn't expect them to be much better.
On 6 June, the developers put out the update below, stating that the PlayStation release planned for 14 June would be delayed so they could focus on fixing the game on PC and Xbox.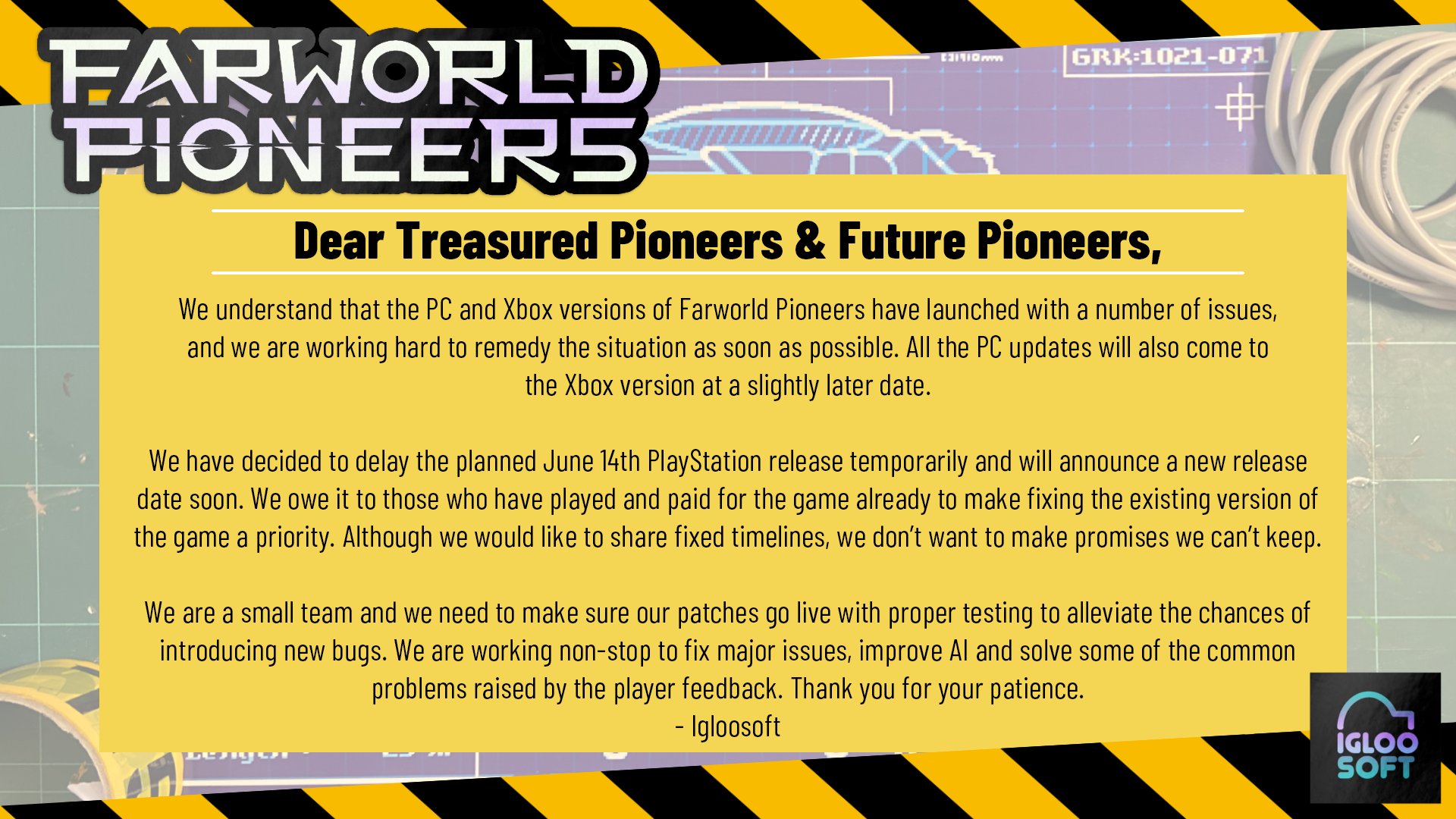 The game fits squarely into the Games as a Service category, and as such, the developers are continuing to work on it, with a pipeline of new features beyond general bug fixes and quality of life improvements. With this in mind, I think it's too early to give up on it, as there's still the possibility of recovery and the game becoming a long-term success. Farworld Pioneers still has a decent following across a number of platforms, and therefore the means to engage with players, but it's undeniably going to be an uphill struggle.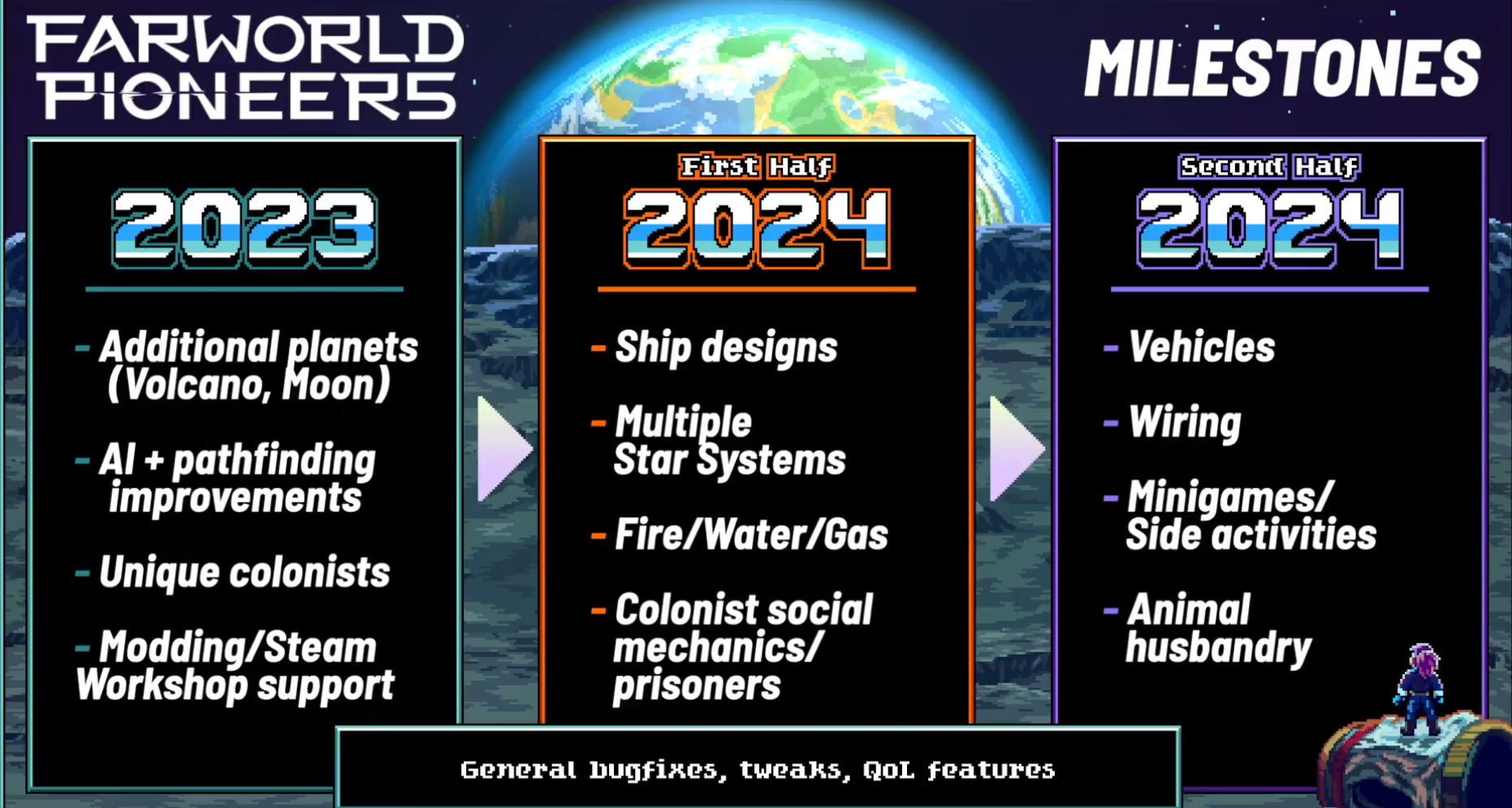 To my mind, this game would have benefited from an early access release on Steam, that could have resolved many of the issues encountered and allowed for a smooth launch. This approach has been used with a number of other titles in the portfolio to great success, and is particularly useful for ambitious titles like Farworld Pioneers which have complex moving parts - not least online multiplayer.
A final concern I have regarding the release, is the potential loss of confidence from Microsoft. The game was included in Xbox Game Pass, so there will likely have been some upfront payments made for its development. To have it subsequently flop on launch due to QA issues is reputationally damaging. As we'll address later on, much of this upfront revenue is expected to disappear in future, and while this is largely due to the macroeconomic environment, I do wonder whether some of the rushed releases we've seen have been a factor.
Let's move onto something more positive.
Virtual Reality and Roblox
The company has recently released three VR titles: Not For Broadcast VR on the 23 March, Kill It With Fire VR on the 13 April, and Hello Neighbor: Search and Rescue VR on 25 May. Judging by the 256 ratings on the Meta Quest/Oculus website - 80% of which were 5 star - Kill It With Fire VR has been a resounding success. Not For Broadcast VR has been similarly well received, with 94 reviews of which 64% were 5 star. Hello Neighbor: Search and Rescue VR has had more reviews, as you'd expect for the larger franchise, but these have been a little more mixed with quite a few reporting bugs.
In all three cases, the games were developed more for strategic reasons - expanding their respective franchises onto new platforms - than the expectation of major profits. In this regard, I think we can say they have achieved their aim, and have also demonstrated the company's ability to make games for emergent platforms/technologies.
Speaking of which, the company has just released an official Roblox version of Secret Neighbor - the multiplayer entry in the Hello Neighbor series. This has added to the already broad list of platforms on which the game is available.
Game updates and DLCs
In line with the company's move towards a Games as a Service (GaaS) model, we've seen updates and new DLCs for a number of games in recent months. I'll quickly rattle through a few of these and then spend a bit of time looking at a couple of games in more depth.
Secret Neighbor - Summer Camp
First up, there's Secret Neighbor - Summer Camp. This free update went live on 15 June and adds number of new features to the game, including: account and character levels; traps and shortcuts; and a new detective view to allow players to spot hidden objects and nearby valuable items.
As mentioned previously, this game is available across many different platforms, so the PC figures might not be fully representative, but let's have a look at a few to get a rough idea of where things stand. The game currently has 133,135 followers on Steam, slightly down from its peak 2 years ago of just over 136k. In terms of concurrent players, we're looking at 24-hour peaks of around 300 - a level that has been pretty consistent since release.
So we can say that the updates are keeping players engaged with the game, but not really growing the overall numbers. This is not to imply that the game is no longer generating income, as there's still a steady stream of new reviews each month which should translate to good ongoing sales numbers.
SpiderHeck - 'Our Park' and QoL Updates
Since its launch back in September last year, SpiderHeck has received a number of quality of life and feature updates. This has included the addition of a new Parkour Mode, a Versus Mode Map Editor, and a whole roster of new weapons.
The game has an active player base and growing following, giving it promise of being a long-lived addition to the portfolio. Its Steam following has now reached 12,651 and its Discord server now has 10,660 members. In terms of concurrent PC players, it's managing daily peaks consistently above 150 players. There are also ports to Xbox, PlayStation and Switch, with plans to add cross-play support later this year.
Not For Broadcast: Live & Spooky DLC and Console Releases
In addition to the aforementioned VR release, Not For Broadcast was also ported to Xbox and PlayStation on 23 March. This occurred at the same time as the release of the Live & Spooky DLC, wherein the player gets to run a TV studio during the live recording of a paranormal ghost-hunting show. 80% of the 75 reviews for this DLC on Steam were positive, and it generated a decent jump in the number of concurrent players for a couple of weeks after the release.
Overall, the game now has 37,329 followers on Steam, around 8.5k across Twitter and Facebook, and 4,876 members on its Discord server. In total, it now has 9,459 reviews on Steam, of which 94.58% are positive, and estimates of sales range all the way from 189.2k to 1.43m depending on the source. I'd be pretty confident in saying this game will sell over 1m copies across all platforms in its lifetime - if it hasn't already.
Cartel Tycoon - Updates & DLCs
Cartel Tycoon continues to receive free updates and new paid DLCs with a regular cadence. On 3 April, we saw the release of the "Fight and Stash" update, which includes a complete rework of the combat system, a new building type, arms dealing, and a new campaign. This coincided with the launch of the "La Familia" DLC containing 5 new Lieutenants for players to add to their cartel.
On 29 June, we had another major update which the developers called "Gangs of De Ojeda". In this update we see the addition of gang alliances, conflict between law enforcement and enemy gangs, an updated tutorial, and a new user interface for negotiations.
The next major release for the game will be the San Rafaela DLC, featuring a brand new map with 12 additional territories, new campaign, and ferry routes for transporting goods. We don't have a release date for this DLC yet, but it looks to be by far the biggest update for the game since its v1.0 launch last year.
It's clear that Moon Moose - the developers of the game - are putting a lot of effort into updating and expanding the game for players, so let's see how the numbers are looking. Since the game is only available for PC, the figures available from SteamDB and other channels should give us a fairly accurate picture of the game's overall performance.
As can be seen from the graph below, the number of Steam followers continue to grow, and right now sits at 31,170. Alongside this, the game also has a combined 4k followers across Twitter and Facebook, and 6,665 members on its Discord server.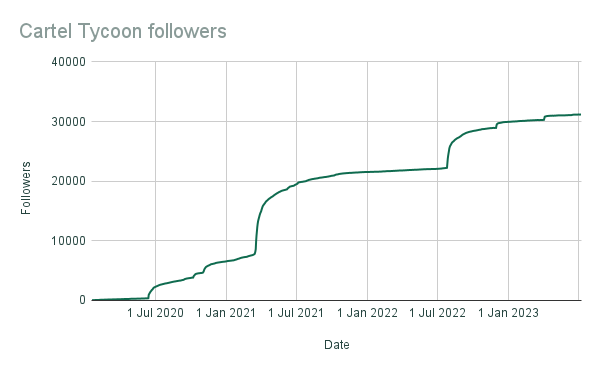 The game currently has 2,777 reviews, of which 77.67% are positive, and estimated owner numbers range fairly widely between 55.5k and 365.0k, depending on the source. With the game's price tag being a little higher than some of the other titles at $29.99 or £24.99, this translates to >$1m in gross revenue even at the lower end of this range.
What's encouraging for the game's longevity, is that it still frequently records peak daily player counts over 200, and as shown in the graph below, the release of both the Sacred Lamb Update on 30 Nov last year, and Fight & Stash Update on 3 Apr this year, have coincided with a substantial boost in player count.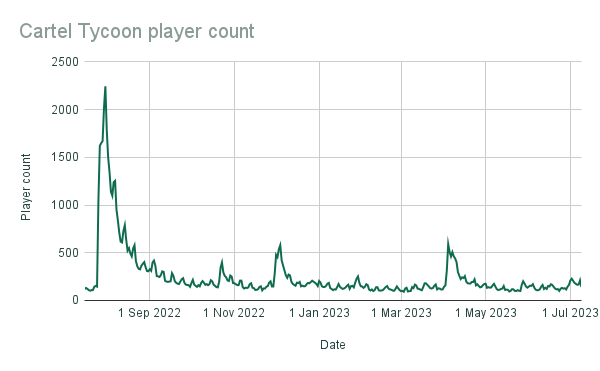 Deadside
While still in early access, Deadside has already accrued as substantial player base. It currently has 95,238 followers on Steam, 26,097 members on Discord, 13k followers on Twitter, and 8.13k subscribers on YouTube. You can see the Steam follower growth on the graph below: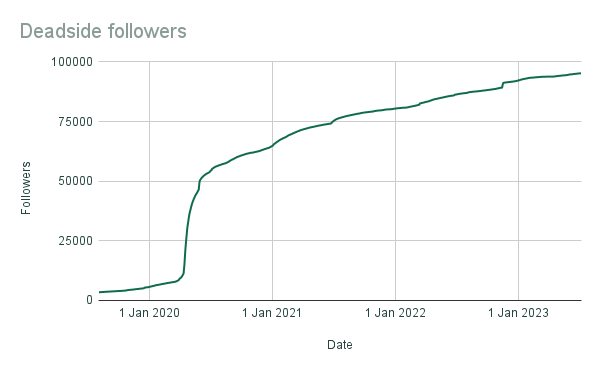 Concurrent player numbers are very healthy, with daily peaks consistently above 1k, and boosts every time a major update is released (see graph below). What's more, VG Insights gives the average total play time as 94 hours, demonstrating the game's replayability even in its early access state.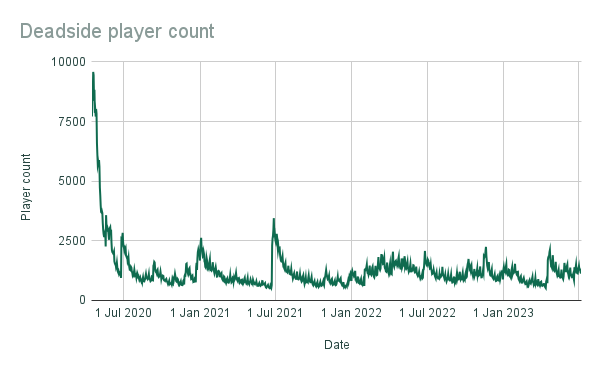 Deadside currently has 30,327 reviews, of which 77.66% are positive, and SteamDB estimates the number of owners as between 606.5k and 1.67m, while most other sources put it around the 1m mark.
Since tinyBuild acquired the game back in September of 2021, they've expanded the development team from the original 6 to at least 20. This has allowed development to accelerate with new major updates every few months, each bringing new features that further enrich the game experience. Recent examples include the addition of boats, new missions, map areas, weapons, equipment, survival elements, and expanded base building.
The team has put out a roadmap for the rest of 2023, which you can see below. The addition of a city to the map is likely to be a big draw for existing players, as it adds a new urban warfare dynamic to the game, and tutorials will make the game more accessible to new players, who currently need to go to external sources like YouTube or the game's wiki to discover all the mechanics.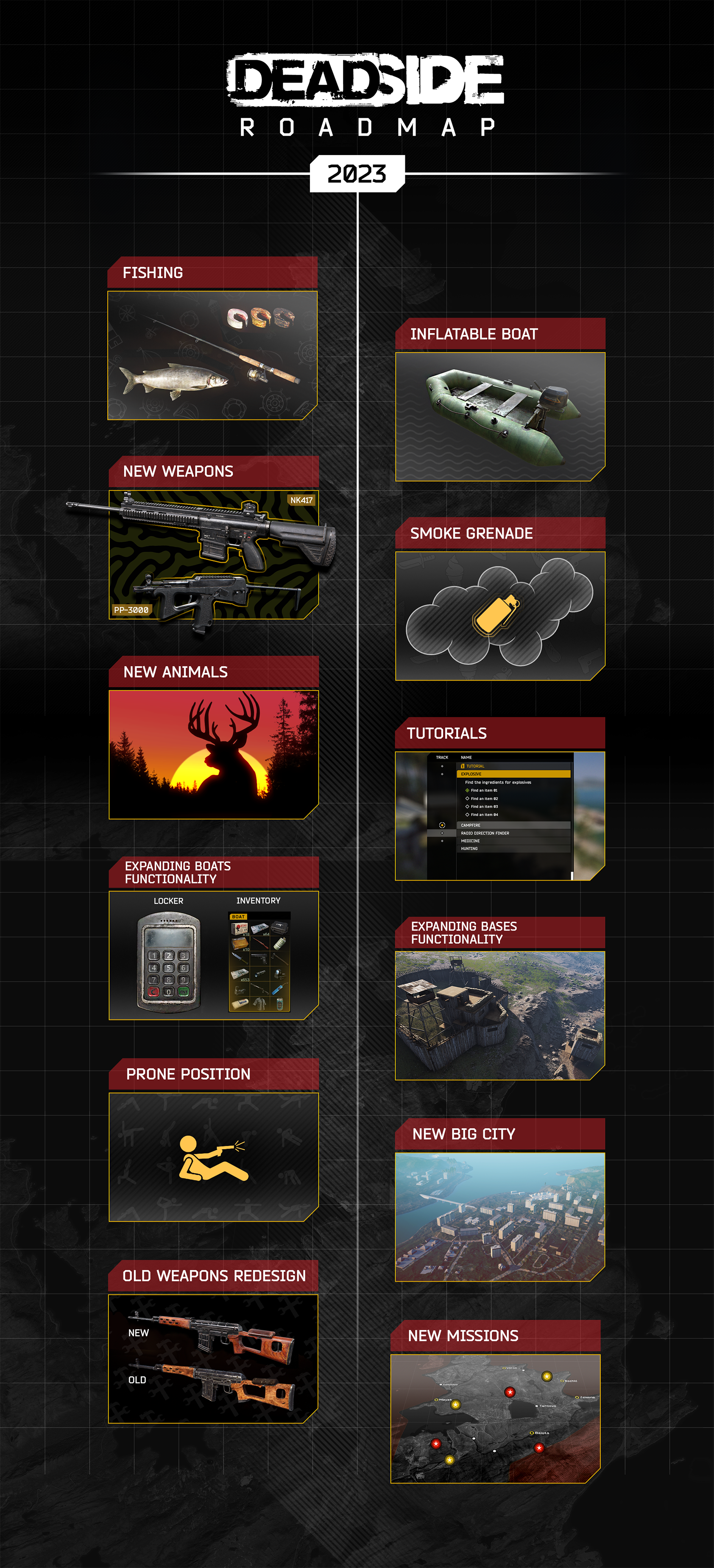 Continuous engagement with players allows the development team to prioritise their work on the most important features, helping to de-risk the project and substantially increase the probability of its success. This engagement comes in a number of forms, but one example is allowing members of the community to participate in the testing of new features and changes on specific test servers before their release.
At this point it might serve as an interesting exercise to estimate the game's revenue contribution since it was acquired by tinyBuild, and what we might expect from here onwards. There's going to be a lot of guesswork involved here and I could be wildly wrong, so take it all with a healthy pinch of salt.
First let's start with what we know, which is that the game produced approximately $3m in EBITDA in 2020 - the year of its early access release. We also know that ~50% of the game's reviews were posted in this time, and if we use this as a rough analogue for sales, the total EBITDA generated by the game since launch is ~$6m. Similarly, we can see that ~67% of the reviews were posted prior to tinyBuild's acquisition, putting the EBITDA generated for the company at ~$2m. I would expect this figure to be a little lower given the additional capital tinyBuild has invested to accelerate the game's development.
We can arrive at this figure another way, by going bottom up to calculate the gross sales. If we assume the game is selling around 150k copies per year, and then multiply this by an average retail price of say $12 (after subtracting sales tax), we get a gross revenue figure of $1.8m. Subtracting Steam's 30% cut, we are left with $1.26m - from which ongoing development expenses can then be subtracted ($500k?). This lines up fairly well with the previously calculated figure.
There is a component of contingent consideration to factor in depending on the game's performance, but we can see at this stage that the ongoing development of the game is most likely being well covered by its sales in early access.
Moving on to the release of v1.0, there's a realistic prospect that the game could be a major hit and sell well north of 1m copies in the first year, but let's be conservative and assume it does 500k. This would likely be at a higher price, let's say $20, giving us a gross revenue figure of $10m. The company will receive $7m of this after Steam (and any other platforms) take their cut. We might expect expenses to be higher in the year of release, so we can subtract $1m from this to leave us with $6m in EBITDA. From then onwards, we can probably expect at least a $1-2m contribution from the game each year.
This is a pretty conservative estimate and there's plenty of room for outperformance, but hopefully it gives you a rough idea of how a fairly average result could look.
Upcoming releases - tinyBuild
With the future in mind, let's take a look at some of the upcoming release pipeline. In total there are 20 new titles in development (30 including DLCs and console ports) - not all of which have been announced. Many are built around existing IP that the company hopes to build into franchises, but there are also quite few that are entirely new.
Punch Club 2: Fast Forward
First up we have Punch Club 2: Fast Forward, the sequel to the popular Punch Club, set for release on 20 July. The developers (Lazy Bear Games) have a very good track record, with both the original Punch Club and Graveyard Keeper - another of their titles released in 2018 - being commercial successes, likely to have sold comfortably over >1m copies across all platforms. Quite incredibly, Graveyard Keeper still manages peak daily concurrent player counts above 2.5k.
Punch Club 2 currently has 5,833 followers on Steam and is #227 in the most wishlisted upcoming games. The prior entry was released too long ago for me to get comparative stats on the number of followers prior to release, but it currently has 43,199, to which the sequel can be marketed. The game studio themselves also have a decent reach with 22.3k followers on Twitter.
I don't think tinyBuild owns the IP for this game, so we can expect profits to be somewhat lower than if they did, but the prospects are still good for a decent return.
Black Skylands
Black Skylands has been in early access since July 2021, and is set for its v1.0 release on PC and consoles on 15 August. The game currently has 25,526 followers on Steam, 8.8k across Twitter and Facebook, and 8,556 members on Discord, positioning it well for a strong launch.
tinyBuild has acquired the IP for this game, so we can expect a high level of due diligence on the game's quality prior to release, and maximal profit capture.
Slime 3K: Rise Against Despot
Slime 3K is set in the same universe as Despot's Game and expected to release in 2023. This new title currently has just 832 followers on Steam, but should benefit from the substantial following of its predecessor, which amounts to 29,679 on Steam, 9.7k across Twitter and Facebook, and 3,115 on Discord.
This is another release where tinyBuild owns the IP, so the company should capture most of the revenue.
I Am Future
I Am Future has accrued a very solid 11,666 followers on Steam, many of which came after the release of a demo in January. The success of the demo, and the fact it is currently the #165 most wishlisted upcoming game on Steam, give it a good chance of success for its launch on 8 August.
As far as I am aware, the developers retain the IP for this game, so tinyBuild's profit share will be smaller than otherwise. The company doesn't make any of the details of its publishing contracts public, but they typically give the publisher a 30-40% share of the game royalties after recouping any upfront contribution to development.
Streets of Rogue 2
This is an open world sequel to the original hit success - Streets of Rogue. We don't have a release date for this one yet, but it has already garnered 11,909 followers on Steam and is the #136 most wishlisted upcoming game. It should also benefit from the Steam following of the first game, which continues to grow and currently totals 93,501.
tinyBuild acquired the IP for this game from its developer - Matt Dabrowski - back in 2021, so we can expect the company to receive most of the game royalties.
Rawmen: Food Fighter Arena
We don't have a release date for Rawmen yet, and things have been a little quiet on the development updates front, but the game certainly has a lot of potential. This is especially the case on consoles, as it's a natural fit for controllers.
tinyBuild acquired the IP for this game back in Aug 2021, and it's good to see they're taking the time to really get the game perfect before release. It's also quite likely that we'll see a simultaneous launch on PC and consoles, which significantly adds to the development time.
Currently the game has 3,205 followers on Steam, where it is the #707 most wishlisted upcoming game, 2.5k followers across Twitter and Facebook, and 1,542 members on its Discord server. They've already had a playtest, but I expect they'll ramp up the community engagement as they get closer to the release.
Totally Reliable Adventure Party
This game is the second entry in the Totally Reliable franchise, following on from Totally Reliable Delivery Service. The previous entry sold well - particularly on consoles - but is very much a Marmite game, with players either loving or hating it. This can be seen from the reviews on the Xbox game store, where 39% are 5 star and 40% are 1 star. Totally Reliable Adventure Party brings the same rag-doll physics mechanics that characterised the first game, to the action RPG/dark fantasy genre.
We don't have a release date yet, and there isn't much marketing material beyond a Steam page with some screenshots and description text, so not much to report regarding follower numbers etc. What I can tell you though, is the first game has a decent following across various platforms, which should help with promotion, and tinyBuild owns the IP.
Hello Engineer
Hello Engineer brings an entirely new genre to the Hello Neighbor franchise, expanding its player base in the process. It's hard to get a gauge on how well the game will do, since it's uncharted territory for the series, but being part of the wider franchise will certainly help to give it some early momentum. The game is set for release at some point in 2023.
tinyBuild owns the IP for the Hello Neighbor franchise, being one of the company's first IP acquisitions.
Kill it With Fire 2
The latest entry in the Kill it With Fire franchise is set for early access release on Steam in Q4 2023. The game doesn't have a massive Steam following as yet, but we can expect to see the number grow after it enters early access and people get a chance to test it out. The first entry in the series has 7,418 followers on Steam, and the wider franchise has >5k across Twitter and Facebook, and 5,251 on Discord, giving the new game a decent reach on launch.
tinyBuild owns the IP for the Kill it With Fire franchise.
Pigeon Simulator
Pigeon Simulator is another physics sandbox title, being created by HakJak - one of tinyBuild's internal development studios. We don't currently have a release date for the game, but it's managed to accrue a pretty decent following of 5,075 on Steam, and is currently the #694 most wishlisted upcoming game.
Level Zero
Level Zero is an asymmetric survival horror PVP, set for release at some point in 2023. The game currently has 5,990 followers on Steam, where it is the #331 most wishlisted upcoming game. It's definitely a AA title, with very glossy 3D graphics, so we can expect it to be one of the higher budget releases this year.
I believe the IP is owned by the developers - DogHowl Games - so it'll be released under a third-party publishing contract.
Sand
Sand is the first of three big titles announced in June during the PC Gaming Show, where tinyBuild had an exclusive pre-show slot. The game is described as "a vast, open world PVPVE" where players build giant walking "tramplers" to ride around the expansive environment. No release date has been announced, but it currently has 9,291 followers on Steam and is the #287 most wishlisted upcoming title.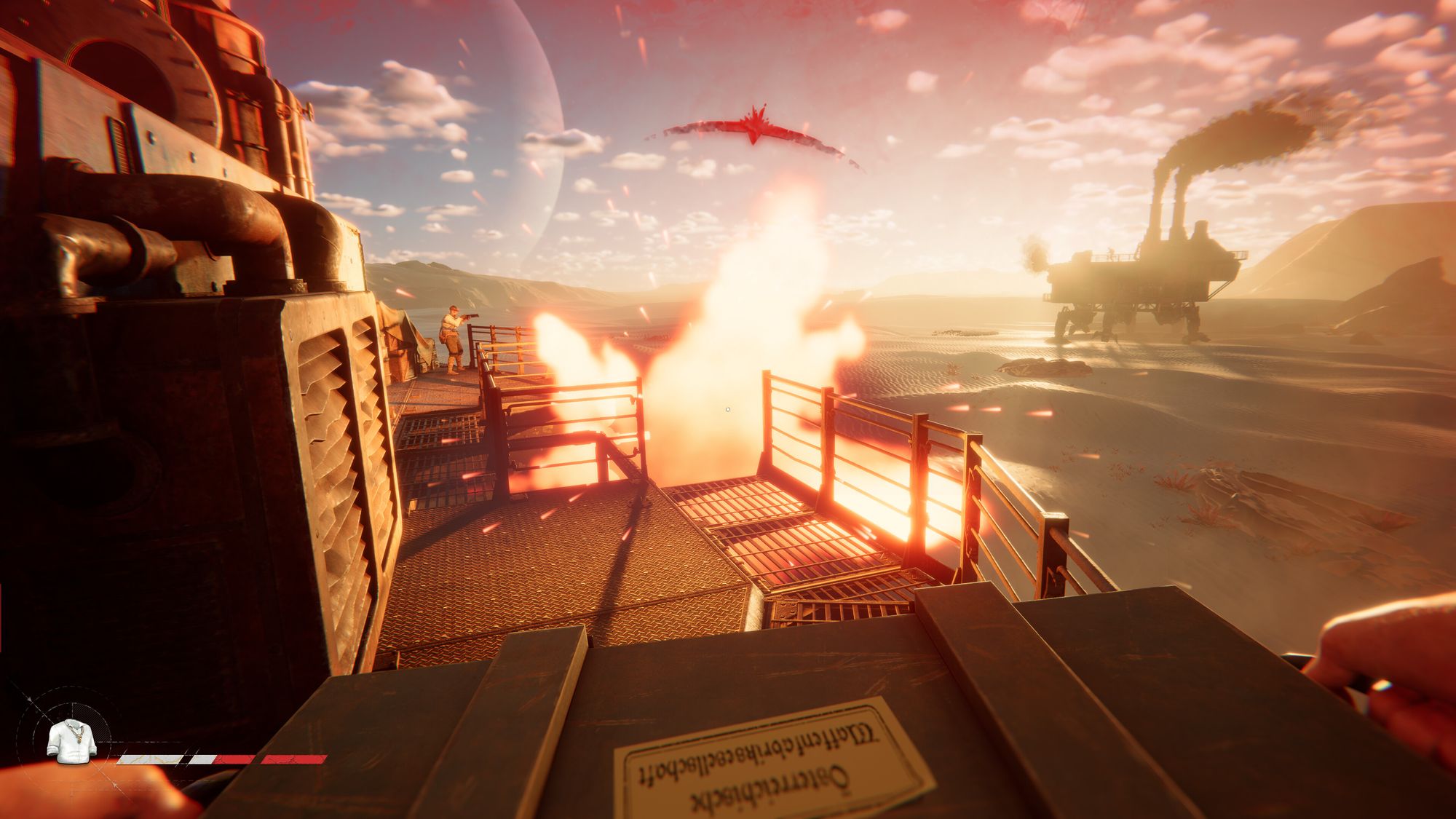 The game is being developed by Hologryph, one of tinyBuild's internal studios who have previously worked on Secret Neighbor. It will therefore be first-party IP.
Ferocious
Ferocious is the second of the aforementioned big titles announced in June, described as a first person shooter set on a mysterious prehistoric island. The visuals they've released so far are quite frankly stunning, and from the trailer it looks to have good gun play.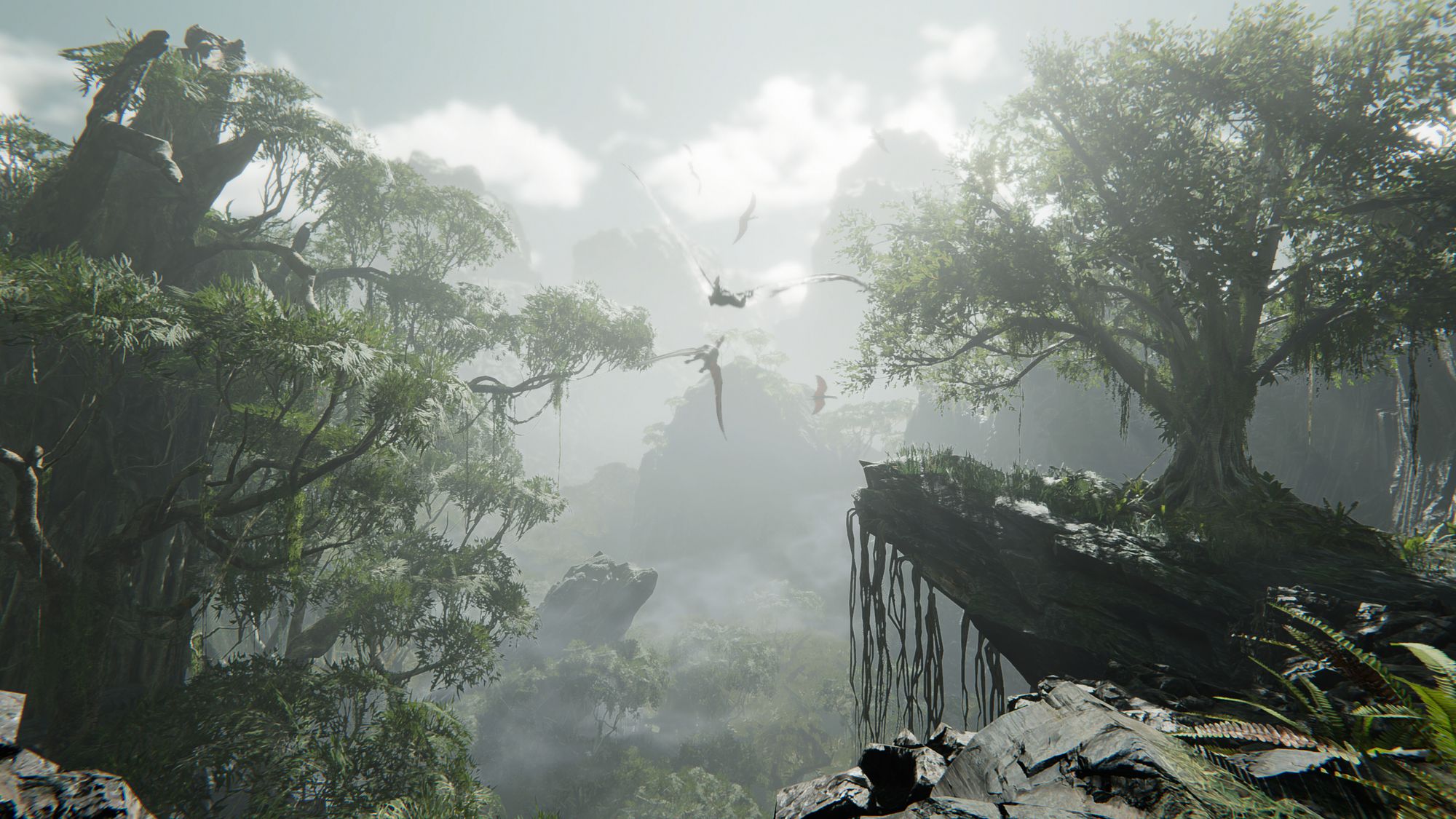 As with Sand, we don't have a release date yet, but Ferocious currently has 14,409 followers on Steam, and is the #146 most wishlisted upcoming title. The game is being developed by OMYOG, who as far as I'm aware retain the IP.
Critter Cove
The third release announced in June was Critter Cove, described by the developers as "Animal Crossing on the high seas". This game would be categorised as a cosy life-sim, contrasting significantly with the previous two games. At present, its Steam following is 1,065, and it sits pretty far back in the wishlist rankings at #1224, but I think this game is going to be more of a hit on consoles than PC.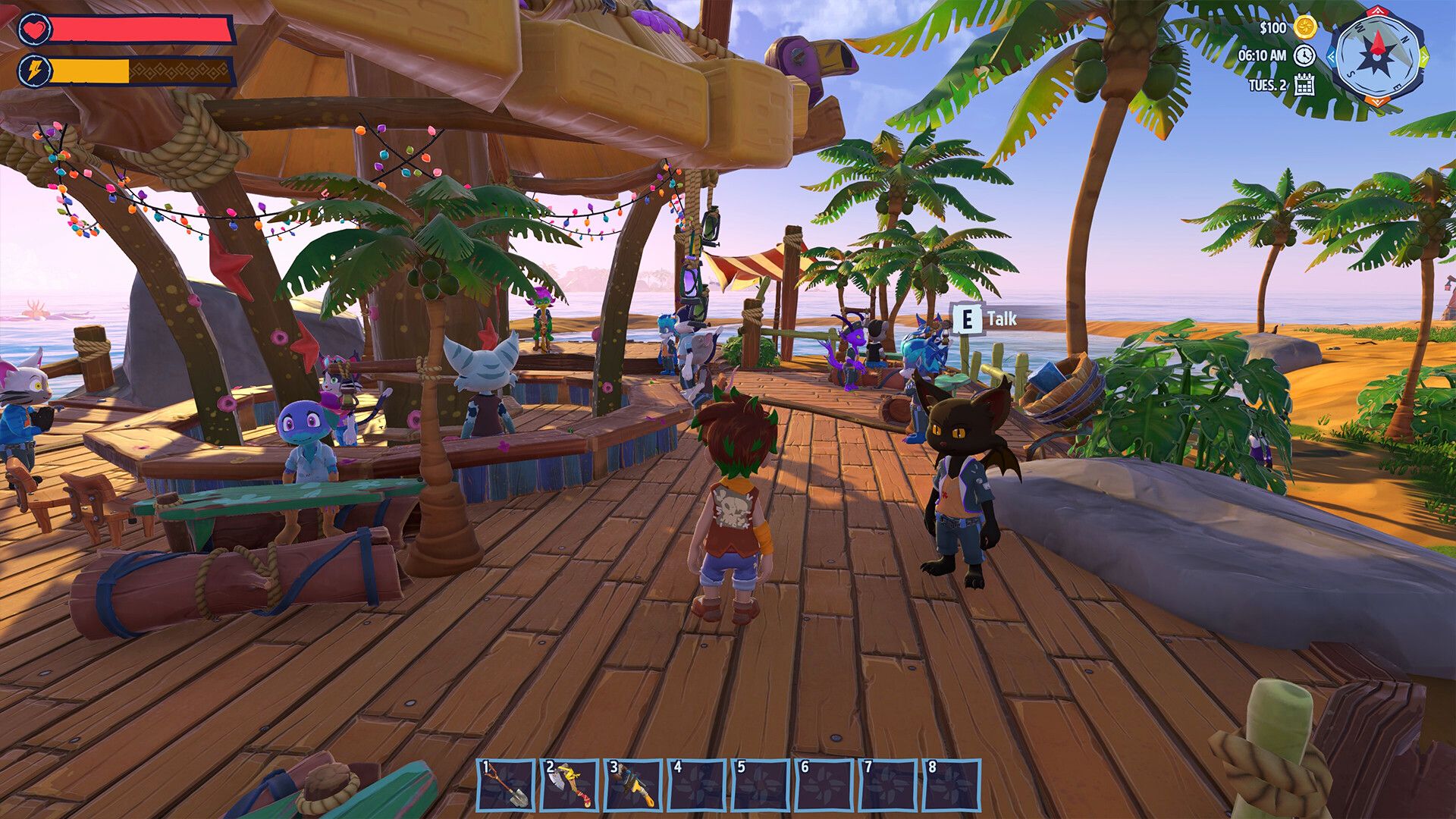 The game is being developed by Gentleman Rat, who I believe retain the IP, and is set to release on PC and consoles during 2023.
Train Valley World
As the name suggests, Train Valley World is a transport simulation game, which follows on from Train Valley and Train Valley 2. tinyBuild did not publish either of the first two games, so you could say it's a publishing win for the company. Given that the developers are based in Vilnius, Lithuania, this publishing engagement could well have come from the DevGAMM conference held in the city.
We don't have any Steam follower data for Train Valley World as it was only announced a few days ago, but the prior two games had 19,712 and 14,354 followers, respectively, and the franchise has 2,189 members on its discord server. The release is currently slated for some time in 2024.
Upcoming releases - Versus Evil
Versus Evil, the publishing studio acquired by tinyBuild in Nov 2021, has a pipeline of 5 titles set for release in 2023 and 2024. As far as I can tell, all are new third-party IP, illustrating that the studio has yet to make the shift to the first and second-party IP model of its parent.
Let's have a quick look at each new title in turn.
Tamarak Trail
Tamarak Trail is a deck-building roguelike developed by Yarrow Games, which puts a unique spin on the genre by replacing cards with dice, rolled with a physics based rolling system rather than a random number generator. The game currently has 836 followers on Steam and is the #1563 most wishlisted upcoming title. It's set to release at some point in 2023.
Stray Souls
Stray Souls is a third-person action-horror game being developed by Jukai Studio, who say they've taken inspiration from the classics of the genre (Resident Evil, Silent Hill, etc). It was also announced on 11 Jul, that the game will feature some original music from the legendary Silent Hill composer Akira Yamaoka.
The game currently has 3,775 followers on Steam and is the #509 most wishlisted upcoming title, with its release expected in 2023.
Broken Roads
Broken Roads is being developed by Broken Bear Bytes, who describe it as "a narrative-driven RPG that brings exploration, strategic turn-based combat and meaningful philosophical choices to an all-new Australian post-apocalyptic setting". The game currently has a substantial 12,917 followers on Steam and is the #173 most wishlisted upcoming title. It's release is expected some time in 2023.
Lil' Guardsman
Lil' Guardsman is unique title being developed by Hilltop Studios, wherein you play as a 12 year-old girl covering her Dad's shift as a castle gate guard, tasked with deciding who to admit to the castle. It currently has 878 followers on Steam and is #1153 in the wishlist rankings, with a release expected some time in 2023.
Monolith: Requiem of the Ancients
Monolith: Requiem of the Ancients is an action RPG title developed by C2 Game Studio. The game doesn't have much of a following at this point as the game was only announced on 11 July, so there's not much to go on regarding it's likely success at launch in 2024.
FY22 annual report
Now that we've gone through the pipeline, let's take a look at some of the key points from the FY22 annual report, starting with the strategic report.
Strategic report
A major highlight for the year was the successful launch in H2 of three titles with budgets in excess of $1m, that achieved an average MOIC by year-end of 1.9x - very close to their lifetime target of 2x in just a few months. This serves to demonstrate the company's ability to deliver higher budget games costing $1-5m, with 2-5 year development cycles.
tinyBuild's pipeline has expanded substantially, with more than 20 titles currently in development, and more than 30 including monetisable events such as DLCs and console ports. We've seen similar growth in the back catalogue, which now includes more than 80 games, representing 80% of gaming revenues. Portfolio diversification has also increased, with the top three games now contributing 30.5% vs 44.1% in 2021.
Management has disclosed a change in accounting treatment for own-IP software development costs. They are now amortised over 36 months in a 40:35:25 ratio rather than 2-year straight line, reflecting the impact the move to GaaS is having on game life-cycles. This could impact profits a little in the short-term, with a small boost from lower amortisation for new releases in the first and second years, but then a drop in the third year. I don't expect the impact to be major given the large contribution to revenues from the back catalogue.
One unfortunate piece of news, was the underperformance of Versus Evil and Red Cerberus, that resulted in an $11.1m write-down in the carrying value of goodwill and other assets. A silver lining is that this was offset by a decrease in the contingent consideration liability, due to their earn-out achievement being unlikely, resulting in no material impact on operating profit, and no loss of cash or equity.
Financials
Income statement
Moving on to the financial statements. Revenue grew 21.4% to $63,295k (FY21: $52,153k), outstripping the 14.2% growth in cost of sales to see gross profit grow 25.2% to $42,608k (FY21: $34,041k).
Operating profit grew 27.1% to $15,923k (FY21: $12,532k), notably faster than gross profit growth, due to operating expenses increasing at the slower rate of 23.8%.
Digging into the operating expenses a little, we can see that non-recurring expenses decreased year-on-year, due to the costs associated with the Ukraine/Russia conflict of $1,678k being lower than those related to the IPO ($4,588k). Share-based payment expenses were also down at $1,726k vs $2,452k in 2021. General administrative expenses were artificially elevated by the $11,170k in intangible asset impairment charges, that are negated by the offsetting gain from the $11,122k reduction in contingent consideration liabilities, shown as "other gains" in the income statement.
The underlying general administrative expenses were $23,233k (after removing the goodwill impairment charge) vs $14,469k in 2021. This 60.6% growth is largely attributable to employee benefit expenses which grew 64.2% to $10,069k from $6,134k, and amortisation charges that grew 89.6% to $9,786k from $5,163k in 2021.
Net profit grew by an even more substantial 39.7% to $11,513k (FY21: $8,243k), as income tax expense remained relatively flat and interest income/costs were negligible. Earnings per share grew 32.6% to $0.057 (FY21: $0.043), slightly less than net profit due to a 6.4% increase in average share count compared to the prior year. Accounting for the dilutive effect of share options, warrants, and restricted stock awards, EPS was $0.056 (FY21: $0.042). Growth in diluted EPS was 33.3% - higher than EPS due to the lower level of share-based compensation in 2022 vs 2021.
Gross, operating, and net profit margins all improved in 2022, with values of 67.3% (FY21: 65.3%), 25.2% (FY21: 24.0%), and 18.2% (FY21: 15.8%), respectively.
Adjusted EBITDA, which still accounts for amortisation of software development costs, but strips out a lot of other non-cash and non-recurring expenses, grew 9.5% to $24,355k (FY21: $22,239k). The lower growth rate when compared to operating profit is largely explained by the impact on the latter of higher share-based compensation and non-recurring costs in the prior year.
Balance sheet
Total assets grew 9.3% to $133,804k (FY21: $122,392k), with a notable change in composition: non-current assets increased to $81,926k from $57,991k, while current assets decreased to $51,878k from $64,401k.
A net $29,656k was added to software development costs, after subtracting amortisation, which when added to the net $4,433k increase in purchased intellectual property, outweighed the asset impairments totalling $11,170k related to Versus Evil. Included within software development costs is $28,919k related to assets under development, for which amortisation has not yet commenced. These are associated with 30 different titles, including new games, sequels, ports and downloadable content (DLCs) expected to be released within the next 1 to 2 years.
During the year, the Group purchased the intellectual property rights to six video games/franchises for a total consideration of $8,395k (plus transfers from software development costs of $251k) including non-cash consideration of 941,906 ordinary shares - equating to $2,020,000.
Trade and other receivables increased to $25,382k from $15,569k, while cash and cash equivalents decreased to $26,496k from $48,832k. Most of this cash was invested in the previously mentioned software development costs, which grew very substantially year-over-year.
Total liabilities decreased to $22,213k from $25,947k, owing to the complete removal of contingent and contract liabilities outweighing the substantial increase in trade and other payables to $20,046k from $9,290k. The absence of contract liabilities at year-end 2022 was apparently just due to the timing of contractual payments, but as we'll see from the recent trading update, there is expected to be a definite decrease in these contracts in 2023 and 2024. More on that later.
Liquidity remained strong at year-end, with the current ratio sitting comfortably at 2.55, a substantial net cash position, and a $35m credit facility, undrawn and available for use.
Total equity grew to $111,592k (FY21: $96,445k), with the majority of the growth coming from the addition of the $11,545k profit for the year to retained earnings. One other component of equity that I neglected to mention in my previous write-up, is the $1,920k warrant reserve. This relates to 1,511,448 warrants issued on 3 Mar 2021 to Zeus Capital. These warrants are exercisable only if the share price exceeds £2.53 per share, and each confer the the right to purchase one ordinary share at the placing price of £1.69 per share. They expire on 9 Mar 2031.
Cash flow statement
Cash flow from operations grew 44.4% to $19,188k (FY21: $13,290k). Net cash used in investing activities grew by a more modest 9.2% to $41,119k (FY21: $37,656k), but with a significant change in allocation: $35,789k (FY21: $15,085k) was spent on software development in 2022, largely replacing the money spent in 2021 on acquisitions of subsidiaries ($11,784k) and purchases of intellectual property ($10,832k). Net cash generated by financing activities fell from $46,885k in 2021 to $(485k) in 2022, due to the share issuance that occurred in the prior year. Combined, these three figures resulted in a net decrease in cash of $22,336k vs a net increase in 2021 of $22,519k.
Obviously this rate of cash investment would not be sustainable unless cash flows from operations increased substantially, but this is exactly what we can expect to see happen as the game titles in development are released over the next couple of years. Management doesn't expect it to be necessary, but should there be some shortfall in the interim, they also have the $35m credit facility to draw on.
Other items from the notes
Revenue from game and merchandise royalties grew only marginally to $40,020k (FY21: $39,871k) and this came with a change of composition: own-IP revenue fell to $26,915k from $30,640k, while third-party IP grew to $13,105k from $9,231k. Much of the growth in the latter is explained by the acquisition of Versus Evil, which at present is primarily a third-party publisher. The fall in own-IP is a different matter, most likely attributable to the timing of releases which we'd expect to become less impactful as the portfolio grows.
Most of the overall revenue growth came from development services, which brought in $22,744k in 2022, up from $11,477k in 2021. There are two factors at play here: the acquisition of a number of development services companies (publishing, porting, QA, etc), but since they're predominantly working on internal projects their impact should be minimal; and an increase in upfront payments from distributors like Microsoft (Xbox Game Pass), which are recognised as development services. As we'll address later on, these payments are expected to meaningfully decrease, which is likely to impact revenue in the next year or so.
On 31 Dec 2022, there were 477,327 RSA share awards outstanding, with a weighted average remaining contractual life of 1.42 years. On the same date, there were 3,547,217 share options with a weighted average exercise price of $1.02 per share, of which, 1,812,394 were exercisable. The weighted average remaining contractual life on these options was 7.58 years.
During the year, no new RSA grants were made, while 318,324 share options were issued with a weighted average exercise price of $1.64. 400,000 options were exercised during the period with an average exercise price of $0.07, and a further 103,164 with an exercise price of $0.33 were forfeited.
Remuneration for key management personnel fell significantly to $2,305k from $5,196k, with aggregate emoluments dropping to $2,217k from $3,037k, and share-based payments decreasing to $88k from $2,159k.
Trading update
Current trading and outlook
On the morning of the AGM, the company released a rather downbeat trading update containing quite a bit of bad news. The first was that they were expecting a material drop in platform revenues, due to an industry-wide reduction of investment in non-AAA games by distribution platforms. Since such deals made up ~30% of total revenue last year, and were the source of most of the revenue growth, the overall impact will be significant. Given the current level of expenditure on software development, and the operational leverage this introduces, Adjusted EBITDA is expected to see an even more substantial decrease.
The above is compounded further by the continued underperformance of Versus Evil and Red Cerberus, where management is considering strategic options to best deliver value from the businesses. This coincides with a wider review to reassess the revenue potential of a number of titles, both under development and already launched. There is also the prospect of some studio reorganisation and impairment of certain assets in order to achieve the optimal cost base in light of the current macro environment. These steps are expected to be completed by no later than the release of the company's FY23 results in March 2024.
While the company doesn't provide its own forward guidance for revenue and earnings, they did reference analyst consensus estimates when stating performance will be below expectations. These consensus estimates were $70m and $0.081 for FY23 revenue and EPS, respectively. Following the trading update, these were revised down to $51m and $0.004.
A further consequence of the drop in revenue is that cash, which the company previously guided to be at least $26.5m at year-end 2023 (i.e. pretty well flat from year-end 2022), is now expected to be between $10-$20m. The implication being that operating cash flows will be insufficient to cover the development expenses incurred during the year.
Board changes
We were given the unfortunate news that Tony Assenza, the CFO, has resigned from the company and board due to personal reasons. He will be replaced by Giasone (Jaz) Salati, previously head of Investor Relations and M&A. Prior to joining tinyBuild, Jaz worked for over 20 years as an equity research analyst at firms including Credit Suisse, Redburn and Macquarie.
In the trading update, we were also told that Michael Schauble, previously VP of Business Development, has been appointed Chief Commercial Officer. Michael has over 18 years' experience in the video games industry, including four years at Microsoft, where he helped to spearhead key initiatives such as Game Pass, Microsoft AR/VR, and backwards compatibility programmes.
It is also worth mentioning that back in March we were told Luke Burtis, the COO, had resigned for family reasons following a period of paternity leave. At the time, the board stated that they didn't intend to replace him due to the company's transition to a more decentralised structure.
Thoughts
The revenue and profit downgrades are unfortunate, but largely short-term, and certainly not existential to the company. They have more than enough liquidity to carry them through this period and the sharpened focus on costs will likely prove a benefit in the long-term.
As detailed above, the pipeline remains very strong and we can expect to see revenue and earnings growing again as the larger titles begin to be released in 2024 and 2025. There's also a good prospect that within a few years the company will have a number of successful franchises built around its popular IP, that it can continue to expand and monetise with new game releases and other media.
With regard to the management departures of recent months, it's a pretty common occurrence for early stage executives to find they're no longer suited to the pressures of the role as the company grows and they find themselves serving a much greater number of stakeholders.
We have yet to see how Jaz will perform in his new role as CFO, but I can say from my interactions with him both remotely and in-person, that he certainly comes across as highly competent, so I don't have any concerns at this stage.
I've not had any contact with Michael, but his career record certainly seems a good fit.
I have absolutely no doubts about Alex as CEO, and think he is well suited to the role. I'd go as far as to say that his stake and leadership position in the company are a major draw as an investor.
AGM
As mentioned at the top, I attended the AGM on the 29 June, and had the opportunity to ask management a pretty exhaustive list of questions. So I thought it would be instructive for me to go through some of the events and discussions that took place.
Let's start with the business of the meeting. Six resolutions were presented to shareholders, of which all but the 6th - that would have permitted any shareholder with a greater than 30% stake to purchase additional shares without making an offer to purchase the whole company - passed. The failure to pass this final resolution is unfortunate, as it would have allowed Alex to purchase additional shares; an act that could have served as a catalyst for share price recovery.
Moving on to the questions. I asked the following:
Q: For the annual bonus targets, have you considered using per-share metrics that align better with shareholder returns, and if so, what made you decide to use Adjusted EBITDA and revenue instead?
A: In response, I was told that this would be a topic of discussion at their upcoming board meeting - so hopefully a seed has been planted.
Q: What criteria do you use for deciding whether to port a game to consoles?
A: Market research on how well it will sell.
Q: Can you talk a little bit about capital allocation? Are you seeing acquisition opportunities in the current depressed market, or is the focus right now on organic growth?
A: The latter. Acquisitions are off the table for now, but it's a less crowded market for finding new titles to publish.
Q: Are there any learnings you've taken away from the Versus Evil acquisition? Is there anything you'd do differently with similar such transactions in the future?
A: The Versus Evil acquisition was the only one they've done where they didn't already have an existing relationship with the company, or a deep understanding of the product as was the case for Deadside (Alex has played thousands of hours of similar games like Rust and PUBG). They underestimated how difficult it would be to change the culture of the company to match their own.
Q: In hindsight, do you think Farworld Pioneers would have benefited from early access prior to the launch like Black Skylands or Deadside?
A: The focus was on the console release, since it would be unique on those platforms, but consoles don't really have an early access programme. - This does answer the question of why early access wasn't used, but it's still questionable that the game was allowed to be released in such a broken state.
Q: Does the total employee benefit expense figure of $11,795k include external contractors?
A: Yes, and for comparative purposes it has in prior years also.
Q: I'm having a little trouble reconciling the increase in receivables and payables used in the calculation of cash generated from operations to the respective figure shown in the balance sheet. Are there some additional variables involved here?
A: Yes, there are additional factors present, the most significant of which are accrued acquisition and software dev payments, which are classified as payables, but go through the investing section of the cash flow statement.
Q: Do you expect to need to use your $35m credit facility to cover any near-term shortfall in cash?
A: No.
Q: What kind of return are you getting on your VR releases vs other formats?
A: VR is mostly a strategic investment to build the game franchises.
Q: Can you give us an idea of the proportion of game revenues that comes from platform deals?
A: Pretty well all development services revenue is from platform deals, so roughly 30% in 2022.
Valuation
tinyBuild has become a rare beast: a high quality company trading at a valuation that implies imminent bankruptcy - a possibility I consider vanishingly small.
Let's put this into numbers (assuming a share price of £0.10 and net cash of $15m):
P/E: 2.3x
P/OCF: 1.3x
P/Revenue: 0.4x
P/B: 0.2x
EV/E: 1.0x
EV/OCF: 0.6x
EV/Revenue: 0.2x
EV/B: 0.1x
Now, you might say these ratios are calculated using last year's figures (except for net cash) and would be significantly lower if calculated on a forward basis. This is true - earnings are expected to be substantially lower, raising the values of the P/E and EV/E ratios, and there are likely to be some asset impairments that lower equity and thus increase the P/B ratio.
However, much of this is temporary and a result of rapid growth in the development pipeline, where expenses incurred precede revenue by several years. I believe it's highly probable that the company returns to the earning level of last year, as the cash invested in development flows through to revenue with a decent multiplier.
Here's the beauty of the current price though: even if the entire pipeline is worthless, the company could completely cut all expenditure on new titles and you'd get your money back in under a year from the existing game royalties - remember that 80% of revenue in 2022 came from the back catalogue. You couldn't really ask for greater downside protection than you have now.
Now you might be wondering why the stock is trading at such a seemingly irrational valuation? Illiquidity dear Watson, illiquidity. On 3 July, we heard that Martin Currie Investment Management Limited sold their 5.02% position, equating to 10.2m shares, on 29 June. Given the substantial insider ownership of the company, this 10.2m shares equated to closer to 10% of the publicly traded shares outstanding, and a number far in excess of the average daily trading volume. As a consequence, we saw the share price crater 80%.
To my mind, the current share price is a severe dislocation from the fundamentals of the business, and a phenomenal buying opportunity. Comparable companies to tinyBuild trade at P/E ratios above 20, and the company itself has previously traded far higher. A return to grace - possibly coinciding with the resumption of growth - could provide the heady combination of earnings growth and multiple expansion, resulting in a 1000%+ return for shareholders.