Firm Returns Weekly - WBD, TBLD, FSTA, ECOR, AV
This week's newsletter is a little late because I was travelling to attend a wedding over the weekend, but there's quite a lot to discuss.
Warner Bros. Discovery
Barbie update
Barbie continues to perform very well, and has now exceeded $1bn in worldwide box office revenue. Its steeper trajectory gives it a good chance of passing The Super Mario Bros. Movie as the most successful film of the year so far.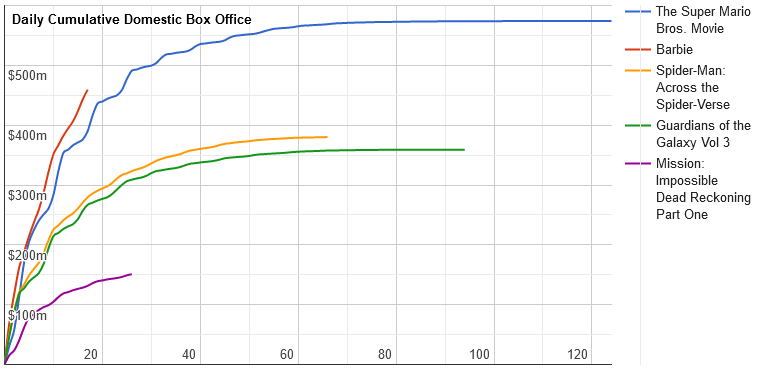 Meg 2: The Trench
Meg 2: The Trench was released on Friday, and took the number 2 spot behind Barbie over the weekend, with worldwide ticket sales estimated to be $142m.
Q2 earnings
On Thursday WBD released their Q2 earnings, which have lifted the share price >10%. Here are some of my key takeaways:
The company generated $1.7bn in free cash flow during the quarter and expects to do roughly the same in Q3. FCF for the year is expected to be in the range $4.5-$5bn.
$1.6bn of debt was repaid in Q2, bringing the total since the merger to $9bn. A further tender for up to $2.7bn has been announced. They remain on track to achieve their targets of below 4x leverage by the end of this year, and 2.5x-3x by the end of 2024. Net leverage was 4.6x at the end of the quarter.
DTC was pretty well break-even in Q2 and modestly EBITDA positive in H1, despite the increased expenses associated with the launch of Max.
Churn from the Max launch was lower than expected and they're seeing early signs of increased engagement on the platform. That said, they did see a net subscriber loss of 1.8m during the quarter, largely due to the overlapping subscriber bases between Max and Discovery+. The introduction of live programming (news and sports) is something they're working on currently.
There were some really interesting insights in the earnings call around how they marketed Barbie across their entire business e.g. Barbie Dreamhouse Challenge on HGTV, and Food Network's Barbie-themed Summer Baking Championship.
While the ad market is still very challenging, their volumes at the recent upfront are up and price levels remain the same vs the prior year.
The strikes, while destructive in the long-run, are actually providing meaningful cost savings and boosting the company's FCF in the near-term. An estimated $100m+ was saved in Q2.
tinyBuild
Wishlist ranking
With I Am Future set to release in early access tomorrow, I thought it might be good to provide an update on where some upcoming titles sit in the Steam wishlist rankings compared to when I wrote about them last.
I Am Future: #135 vs #165.
Streets of Rogue 2: #130 vs #136
Level Zero: #318 vs #331
Sand: #270 vs #287
Ferocious: #146 vs #146
Stray Souls: #491 vs #509
Broken Roads: #170 vs #173
Black Skylands is also leaving early access on 15 Aug, but since it has been available on Steam since 2021, we don't have any wishlist data for it. What I can say is that its following currently sits at 26,212, so it's well positioned for a strong v1.0 launch.
Punch Club 2 article
tinyBuild's CEO has published a very interesting and detailed article on how they planned and executed the launch of Punch Club 2, and how it has performed since. Highly recommend giving it a look:
https://www.tinybuild.com/single-post/punch-club-2-launching-a-sequel-to-a-game-that-caught-lightning-in-a-bottle
Fuller, Smith & Turner
We received notification that Lansdowne Partners (a London-based hedge fund with a value focus) had increased their stake from 8.4% to 10% of the A shares outstanding on 1 Aug.
Ecora Resources
Some insider buying by the CEO, CFO, and Chairman of Ecora Resources also occurred on the 31 Jul and 1 Aug.
Aviva
We were also informed today that Close Asset Management Limited has built up a 5.43% position in Aviva. With £15.3bn of assets under management, this 5.43% position - equating to around £550m - represents a meaningful allocation (3.5-4%).
Aviva is due a more thorough update at some point, since a fair amount has happened since I last wrote about the company.
Investment search
I looked through another 50 or so companies this week, and identified the following as potential candidates for further study:
Globalworth Real Estate Investments (GWI)
CLS Holdings plc (CLI)
Marlowe plc (MRL)
Volex plc (VLX)
Tullow Oil plc (TLW)
Kenmare Resources plc (KMR)
Kier Group plc (KIE)